Small businesses are often stretched thin. Workers might wear many hats and struggle to make time for the day-to-day paperwork of running a commerce business. Fortunately, electronic data interchange (EDI) platforms can help. EDI software links up incoming and outgoing data from your various partners and systems, like retailers, distributors and enterprise resource planning (ERP) software. It provides a centralized space for this data to move through, allowing you and your employees to access up-to-date information and automate various processes like invoicing and order aggregation.
EDI platforms streamline the entire commerce ecosystem from merchant to end-user. They're an essential tool for automation and visibility, helping small businesses boost efficiency, reduce errors, improve communication and much more for a hands-off and highly-efficient commerce environment.
If you own a small business, you have a unique advantage when it comes to EDI implementation — you're building from the ground up. You can implement your EDI quickly and easily to build a foundation for future growth. As your business evolves, EDI helps you work with new partners, integrate new systems and maintain complete visibility. Let's explore what EDI has to offer small businesses and how you can choose the best solution for your organization.
7 Benefits of EDI for Small Businesses
Small businesses typically have less infrastructure in place compared to their larger counterparts. That means implementing EDI solutions is simpler and straightforward, with fewer elements to connect. In today's modern business environment, digital connections are a necessity, and small businesses can lay the groundwork for success by implementing an EDI solution.
Increased Productivity
Disconnected systems and manual processes aren't a recipe for success. You and your employees may spend countless hours on unnecessary processes, like entering data or submitting forms. You might spend significant time and effort fixing errors from manual processes. An employee could wait for hours to obtain order information from another department and delay a shipment.
In an EDI, information flows effortlessly and automatically. There's no need to spend more time on manual work than absolutely necessary. You can automate a wide range of processes and create a hands-off workflow, leaving you and your employees to spend less time on the minutia of the job and more time focused on the big picture.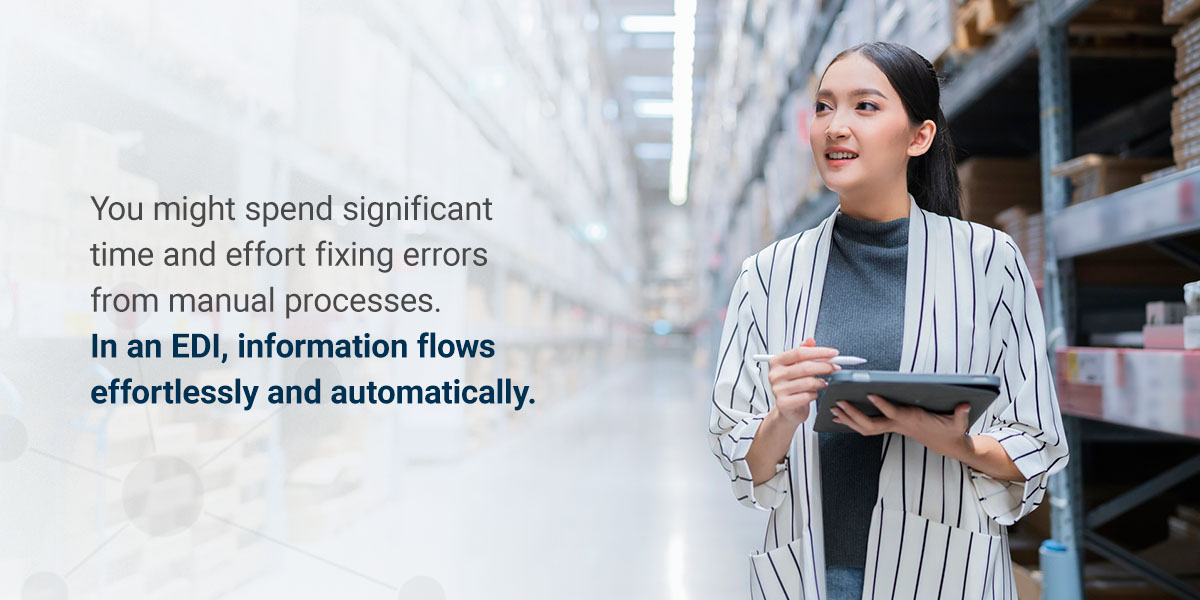 Scalable Growth
Most small businesses dream of growth. Whether you just want to work with a few more retailers or build warehouses across the country, an EDI solution can help. It provides a centralized space for multiple systems to communicate, bringing whatever information you may need in the future into your overall data interchange. It's easy to add and integrate new systems with your small business EDI as the company grows and evolves.
EDI also supports business growth through consistency. The many capabilities of an EDI support more consistent, repeatable performance. If you're looking to grow your business, you'll need to offer dependable results to gain and retain new customers.
Fewer Redundancies in Work
When different systems don't communicate with each other, you might end up repeating processes or storing multiple copies of data. Say you receive an order from a retailer and need to upload it to your ERP. You might download a copy of the data from the retailer only to re-upload it to the ERP. This process leaves you with an extra copy on localized storage, like a desktop computer. It creates unnecessary work and redundant data.
With an EDI, these two systems can communicate directly, allowing you to minimize the amount of repeated data generation and other redundant processes.
Accessible and Accurate Data
Estimates place the typical error rate of manual data entry at about 1%. Quantifying these errors can be challenging, but we can assume there is some level of error that occurs with manual processes. It isn't because humans are lazy or unskilled, but simply because they're human. Mistakes can happen when someone is tired or distracted or because they can't read someone's handwriting. Even the best employees will make errors in manual processes like data entry. This is especially true for non-specialists such as small business employees who might take on multiple roles.
Even small errors like a misplaced decimal point can have significant effects for your operation. That one decimal point could throw off your inventory or alter your quality control assessments. When these errors occur, you have to spend more resources correcting them and redoing the data — a very inefficient process. Automating it can help boost your data's accuracy and reliability.
Another way EDI improves accuracy is through accessibility. Outdated or hard-to-access information can stop you from accessing the big picture or up-to-date information. Small business EDI integrations improve real-time visibility and centralize information in one easy place, so you always know where to go for the most recent data about your entire commerce solution.
Improved Collaboration and Transparency
Small businesses often rely on other businesses to get their products made and on the shelves. Linking your commerce data into an easy-to-access and highly visible solution allows you to better collaborate and communicate with your partners. You can easily share up-to-date information to keep everyone on the same page and understand the entire picture.
By connecting every part of your operation, you, your employees and your partners can enjoy transparency with easy access to information across the product's journey. Everyone can make more informed decisions with the right data in front of them. You might set up low-inventory notifications or check in on a slow-moving order to identify the holdup. With supply chain issues running rampant, greater visibility can be a big help in optimizing your overall commerce environment.
EDI is also an excellent tool for starting new partnerships. It standardizes data into the right formats, allowing you to quickly work with new partners and fold them into your commerce solution.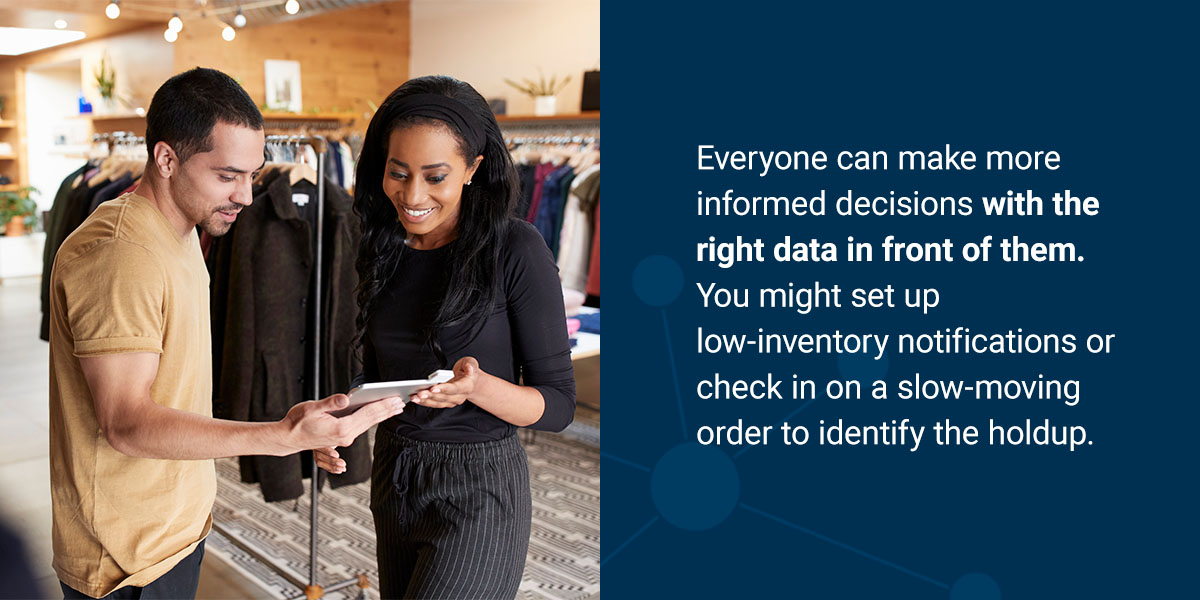 Streamlined Communication
On a similar note, EDI can streamline communication. Different departments and systems in your company need to talk to each other quickly and easily while working with reliable data. You need to do the same with your partners, too. EDI can automate day-to-day communication requirements, such as submitting reports or updating stock counts. It creates less room for miscommunication through errors, delays or simple forgetfulness.
EDI also streamlines communication by standardizing your data and formatting it appropriately. You can easily accommodate general standards like those from the American National Standards Institute (ANSI) and more industry-specific data formatting requirements. This standardization and formatting allows you to quickly communicate with potential partners without worrying about complex data requirements. These can be complicated and may require specialized knowledge, so simplifying data standards can go a long way for small businesses.
Security and Compliance
EDI is also a powerful tool for improving security and compliance with government and industry regulations. It functions as a managed file transfer (MFT) platform, allowing you to securely send and receive electronic data. MFT is more secure than other data-sharing protocols, like file transfer protocol (FTP), making it ideal for sensitive business documents.
Centralized, digitized data also provides excellent oversight and minimizes the risk of lost information. When data is stored in a physical file cabinet or on miscellaneous local storage, such as a desktop or flash drive, it's easy to lose track of things. From a company perspective, there's less oversight. An employee could lose a flash drive with sensitive data, or leave a paper lying around. Modifications and user access are harder to track, which could pose significant problems, especially in highly regulated industries.
EDI addresses these risks with various security solutions like detailed audit trails and archive tracking. These systems are designed to offer strong access control, so only authorized users can access the data, while providing extensive visibility to those users. Almost a third of data breaches hit small businesses, so taking steps to limit breach risks is essential. It's also key to abiding by industry regulations.
How to Choose the Best EDI Software for Your Small Business
While EDI solutions has a lot to offer, not all are created equal. EDI software is your interface for nearly every essential business task, so you'll want to spend some time finding the right solution for your organization. Here are a few things to look for when choosing EDI software.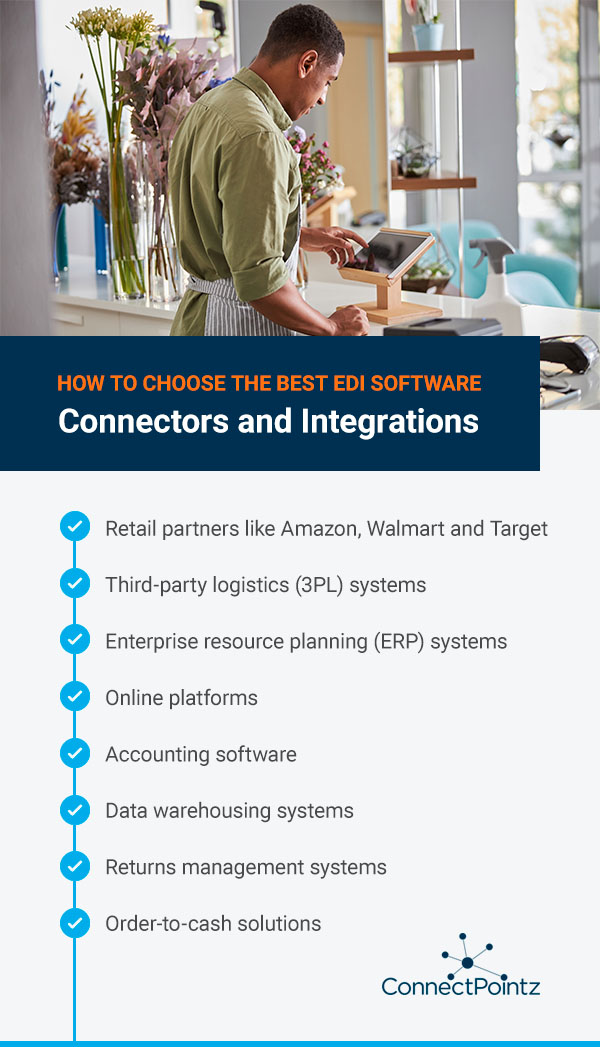 Connectors and Integrations
EDI is based on the links between your systems and your partners' systems. Small business EDI platforms need to offer a wide array of connectors to suit your current needs and accommodate any additional systems you might want to add in the future. Think about the solutions you currently use and those you might use in the future. Some examples of connectors to look for include:
Retail partners like Amazon, Walmart and Target
Third-party logistics (3PL) systems
Enterprise resource planning (ERP) systems
Online platforms
Accounting software
Data warehousing systems
Returns management systems
Order-to-cash solutions
Potential for Reducing Errors
Will your EDI solution help you minimize errors? Consider the processes you'd like to automate or which ones give you the most trouble and look for an EDI solution that can accommodate them. One of the major benefits of EDI is its ability to remove the risks of manual processing, so you'll want to ensure your EDI solution can do so. It should also offer enough flexibility to accommodate new processes you may add in the future.
Efficiency
Similarly, an EDI solution needs to boost efficiency. Consider which tasks are the most time-consuming for your organization. Look for an EDI solution that reduces manual entry, paper-based processes and other practices that slow you down. For instance, if you waste a lot of time on invoicing, try to find an EDI solution that can generate them based on information to increase your productivity.
Security
Your EDI solution should also offer robust security solutions. Identify the standards required by your industry and what security features you might need. A pharmaceutical company may need detailed auditing to meet quality requirements, and an automotive company might need long-term archive tracking for safety and recall purposes. All businesses need to ensure the integrity and security of their data, so access controls are essential, too.
Explore what security demands face your small business and how your EDI solution can help. The right platform should offer peace of mind and help ease the process of staying compliant.
What Kinds of Small Businesses Should Use an EDI Solution?
Virtually any small business can benefit from an EDI solution. It delivers visibility and efficiency throughout the business. ConnectPointz is a highly customizable EDI solution, and we've tailored it to the work of varying clients. Here are a few businesses that have benefited from EDI through ConnectPointz solutions:
As you can see, EDI fits well in many different commerce businesses. From technology to health and a wide range of other goods, EDI provides end-to-end automation and simplification, so you can spend less time managing information and more time focusing on growing your business.
ConnectPointz for Small Businesses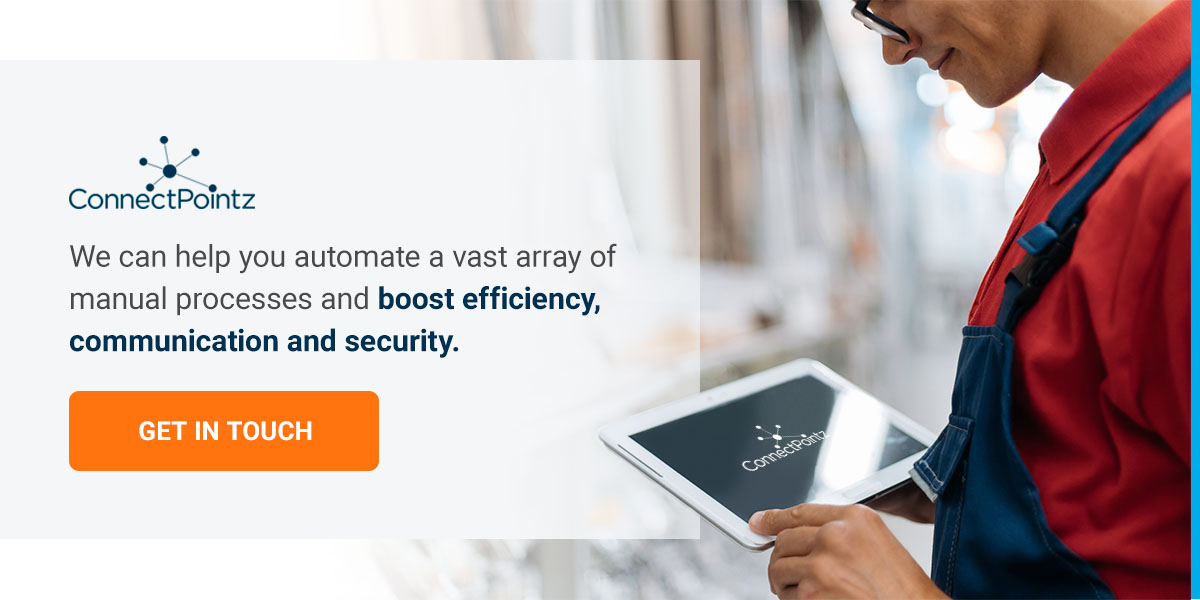 Small businesses across industries can take advantage of everything EDI has to offer with ConnectPointz. ConnectPointz is your all-in-one solution, with plenty of connectors for the applications and systems you use every day. We can help you automate a vast array of manual processes and boost efficiency, communication and security. Thanks to a flexible, customizable and affordable solution, you'll be ready for new systems and new partnerships as your small business grows.
Learn more about ConnectPointz or reach out to us to talk EDI for your small business!