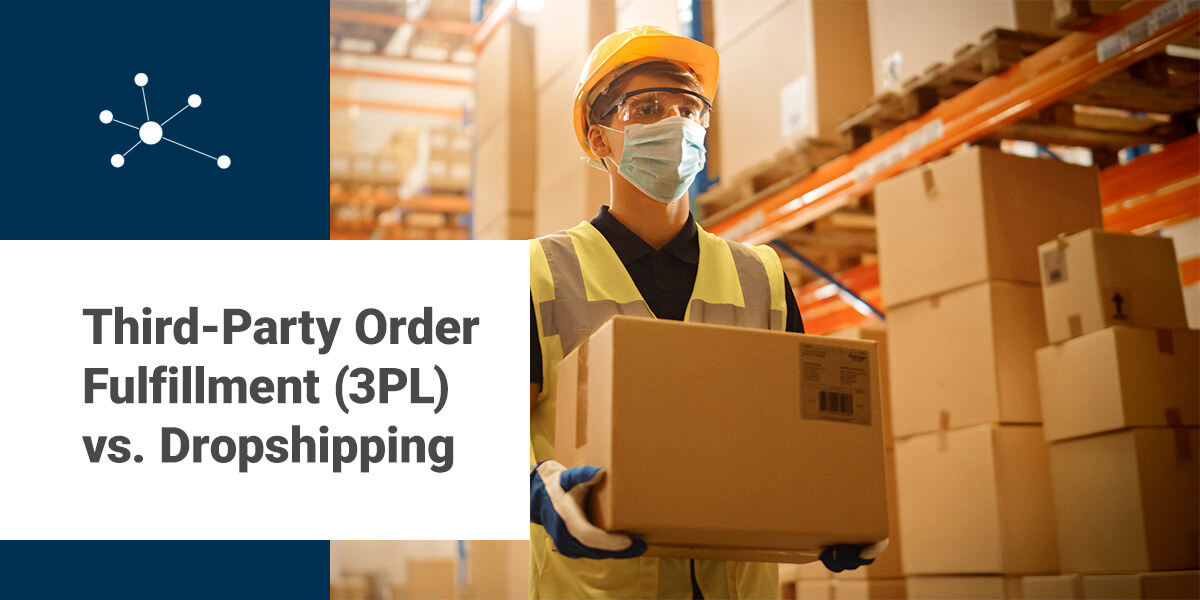 With the help of technology and digitalization, e-commerce continues to grow and expand. In 2021 alone, the United States e-commerce industry generated $768 billion — and it's expected to surpass $1.3 trillion by 2025. Customers prefer to shop online for various products rather than in-store because of the convenience and time-saving features it offers.
Retailers and manufacturers face more supply chain challenges as they try to keep up with demands and the growing marketplace. This is where services like dropshipping and third-party fulfillment come in and help retailers and suppliers outsource and ship their orders across the globe quickly and efficiently.
Here, we'll look at the benefits and features of 3PL versus dropshipping services.
What Is Dropshipping?
Dropshipping is a method of e-commerce fulfillment that allows sellers and businesses to accept customer orders without keeping products in stock. Once the seller receives an order for a product, they will purchase the goods from a third-party company — such as a supplier or manufacturer — and pass the order onto them. The supplier will then ship the product directly to the customer.
This allows businesses to sell online in bulk without buying the goods beforehand. Businesses can promote other companies' products they want to sell and take a cut from the profits. In addition to its advantages, this method involves drawbacks and obstacles like any other business technique.
How Dropshipping Works
In the dropshipping process, the merchant fulfilling the order will often pay for the products at a discount if they are working directly with a wholesaler or manufacturer. The profit they make is from the difference between the initial product cost and the price they sell it for.
Because the merchant does not store or manage their own inventory, they focus their efforts on advertising, marketing and managing their online business and growth. This supply chain management method involves the combined efforts of retailers, wholesalers, manufacturers or other product suppliers to work efficiently.
Here's a breakdown of the process:
A customer places an order with the business or retailer
The retailer notifies the dropshipping partner to package and ship the product
The dropshipping partner — either the wholesaler or manufacturer — charges the retailer for the service
The retailer charges the customer
When there are more parties involved in the supply chain process, more people take a percentage, reducing profits. With a shorter supply chain — retailers dealing directly with manufacturers — there is a better chance for increased profits.
What Are the Benefits of Dropshipping?
Dropshipping is a popular method for e-commerce businesses and other companies seeking to enhance their profit opportunities and reduce their inventory storage needs. Here are five reasons that almost any e-commerce retailer should consider dropshipping:
1. Lower Your Costs
Dropshipping is a great way to lower overhead, storage, management and logistics costs. Without a dropshipping service, retailers have to manage packing and shipping costs on top of monitoring goods in transit. This process can be stressful and expensive, and dropshipping takes care of the products reaching the customer.
Dropshipping can also lower the cost of starting and maintaining a business because you don't need to invest in or manage costly inventory — ensuring you won't end up stuck with products that aren't selling. Keeping these overhead costs low allows you to enter new markets without adding substantial costs upfront.
2. Minimize Business Risks
As a merchant or retailer, you can focus on making your business grow rather than putting time, money and energy into managing inventory. Handling products in-store requires much more responsibility, while dropshipping offers a straightforward solution. This process makes it easier for you to calculate your profit margin and market your products to customers.
3. Offer a Wider Selection of Products
Because you aren't limited to the products you can sell, it opens the door for more opportunities. You can sell various products that align with trends and popular industry items and add them to your website. With dropshipping, you can also change your product offerings without clearing out existing products or ordering new inventory.
4. Increase Flexibility
Dropshipping businesses can benefit from a non-traditional structure and run a store from anywhere in the world, providing flexibility and reduced restrictions in terms of location or time. This means you don't have to start your business in any specific place — you can use dropshipping services from anywhere.
5. Improve Delivery Times
Many businesses who manage their own inventory find it expensive to pack and ship products to customers who are halfway around the world, making it difficult for them to compete with companies who deliver within one to two days. Your dropshipping partners may have multiple locations and ship the product to customers in closer proximity.
What Is 3PL?
Third-party logistics, or 3PL, is a more comprehensive fulfillment method compared to dropshipping. 3PL providers manage a business's supply chain and logistics operations in a more hands-on way and act as a middleman between retailers and manufacturers or suppliers. Essentially, companies use 3PL services to help with their warehouse and distribution needs such as:
Stocking, sorting and shipping inventory of many different businesses
Negotiating discounted shipping rates
Assembling products if necessary
Scheduling shipments and delivery of inventory
Maintaining inventory in proper conditions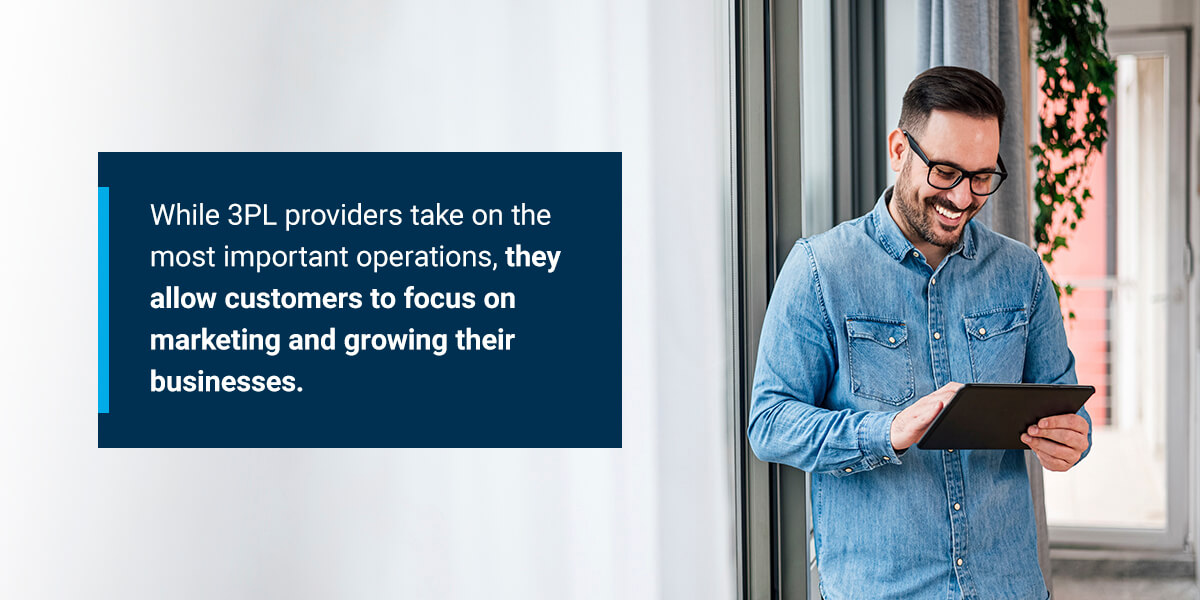 While 3PL providers take on the most important operations, they allow customers to focus on marketing and growing their businesses. Dropshippers usually only handle order processing and fulfillment elements of the supply chain, but 3PL services include order fulfillment as well as assembly, kitting, packing and other tasks.
3PL services partner with a wide range of industries and often allow retailers to choose between one service or several interconnected services for the storing and distribution of goods.
How Does 3PL Work?
With a third-party fulfillment service, either the retailer or supplier will send products and materials to the 3PL partner. The 3PL partner will then conduct any necessary inventory management or warehousing and process the orders through the fulfillment channel before shipping them out to a customer or retailer. Essentially, sometimes retailers will send their inventory to the 3PL fulfillment company instead of having it sent directly from a manufacturer or supplier.
Here's a step-by-step breakdown of the process:
The retailer purchases bulk product from manufacturer or supplier
The manufacturer or supplier delivers the goods to the 3PL partner
The 3PL partner processes the inventory
The retailer lists the products on their online store
Customers submit a purchase and pay the retailer for the item and shipping fees
The retailer communicates the order details to the 3PL partner
The 3PL partner packs and ships the order directly to the customer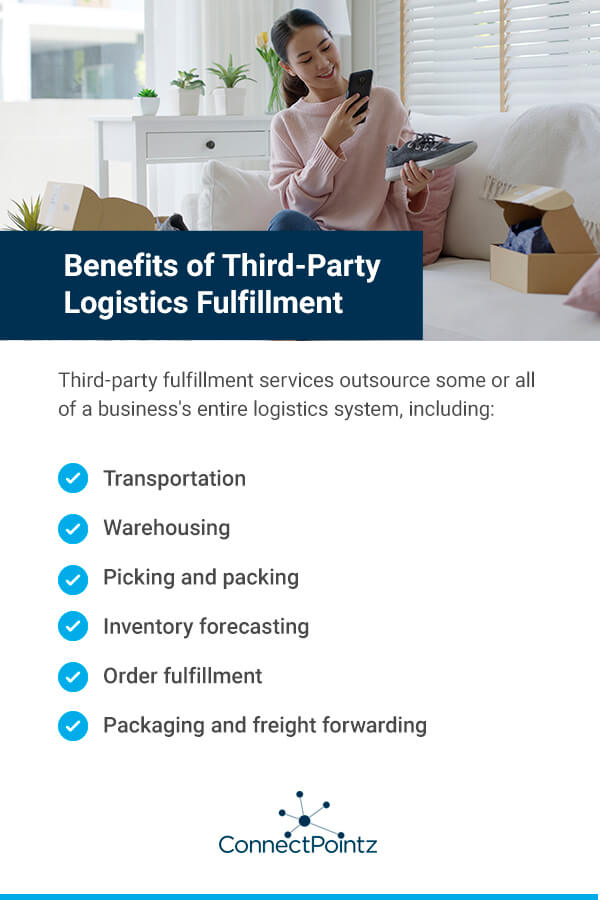 Benefits of Third-Party Logistics Fulfillment
Third-party fulfillment services outsource some or all of a business's entire logistics system, including:
Transportation
Warehousing
Picking and packing
Inventory forecasting
Order fulfillment
Packaging and freight forwarding
Aside from convenience, there are many other benefits to using 3PL services:
1. Provide Faster Shipping and a Better Experience
As many customers expect next- or same-day shipping, you can get ahead using a 3PL provider. This type of fulfillment service enables you to offer faster shipping and delivery times to your customers through the 3PL efficient distribution processes.
When you partner with a 3PL fulfillment center, you can choose a centrally located facility to reach most or all of your customers within one or two days. This feature will help elevate your e-commerce business and allow you to remain competitive.
2. Understand the International Market
With the help of your established and connected 3PL facility, you can get a better grasp of international logistics and gain more business opportunities in new markets.
If you wish to expand your business into new territory, you'll need to know the proper customs, documentation and duties required for all of your products and transactions. A 3PL service can handle these elements for you and help you break into new markets without having a risky investment on your hands.
3. Gain Knowledge and Expert Support
Managing your own inventory can be expensive and inefficient without a third-party fulfillment partner to provide the expertise and know the details of the supply chain process.
Many challenges come with fulfillment, warehousing and shipping products and materials. Relying on 3PL organizations for their industry connections and experience can quickly help you streamline and simplify your processes. 3PL services can provide helpful insight into any international shipping or e-commerce issues that may arise. Partnering with a more experienced organization will help ensure your business complies with international regulations and protocols.
Gaining valuable knowledge and engaging with 3PL providers that know the ins and outs of their field can help your business stay successful, particularly if you're just starting out. With the help of a fulfillment partner, you can focus on other areas of your business while your logistics company manages and improves your operations.
4. Reduce Costs and Save Time
A 3PL partner can help you reduce the expenses and time it would take to invest in warehouse space, technology, transportation and employees to carry out logistics processes. This advantage enables you and your team to gear your resources toward core competencies.
3PL providers will also help prevent you from making any costly or risky supply chain mistakes with their insider knowledge and industry forecasting, optimizing your time and money on all ends. When utilizing a 3PL organization, businesses may also benefit from better rates due to higher volume and order frequency from multiple customers. As a provider, your 3PL partner is also insured against the damage or loss of your materials and products, giving you peace of mind.
5. Enhance Scalability and Flexibility
With less overhead costs and fewer warehouse and shipping responsibilities, your company can further benefit from a 3PL solution and grow more successfully. 3PL providers have the space, labor and transportation to help you meet industry and seasonal fluctuations.
If you require more space for a certain part of the year and less space for the other, your 3PL can adjust to your needs without leaving you with significant costs. You can also rely on your 3PL partner to find new ways to improve your supply chain processes and provide you with the necessary tools and technology to help you expand your business.
Tips for Choosing Between 3PL and Dropshipping
Dropshipping and 3PL meet different needs, but they provide many similar benefits. What you choose depends on the services you require and your purpose for using one of these fulfillment centers for your business.
Essentially, 3PL fulfillment and dropshipping have different qualities meant for different retailers. If you have the means to buy inventory in bulk but not to set up your own warehouse, a 3PL service would be your best bet. If your business is just starting out and you'd struggle to invest in bulk products or materials, using a dropship partner would be a better choice for your expansion.
For a side-by-side comparison, here are some other factors to consider if you're unsure which one is right for your business.
Third-Party Order Fulfillment
With a 3PL service, you can expect:
Volume: 3PL providers often hold much more inventory.
Adjustments: You can sell according to demand without considering space.
Expertise: You can focus on your sales while the 3PL handles fulfillment.
Fees: Know that you'll need to pay for the service and convenience.
Dropshipping
With a dropshipping partner, you can expect:
Competition: You will likely compete against similar retailers selling the same products at the same or more competitive prices.
Little investment: You won't need to secure the capital to pay for bulk inventory in advance.
Product range: You can sell a wide variety of diverse products of your choice from around the world.
Profit cuts: As your dropshipper handles the overhead costs and shipping expenses, they will also have a larger cut.
As with any business venture, there are benefits and considerations for every method. This is why it's so important to determine what your business needs will be for many different circumstances to find the right technique.
The team at ConnectPointz can help your business thrive with either of these options with our integrated retail solutions. ConnectPointz helps put you in control of your supply chain processes by easily adding new merchants and trading partners while managing your e-commerce activity.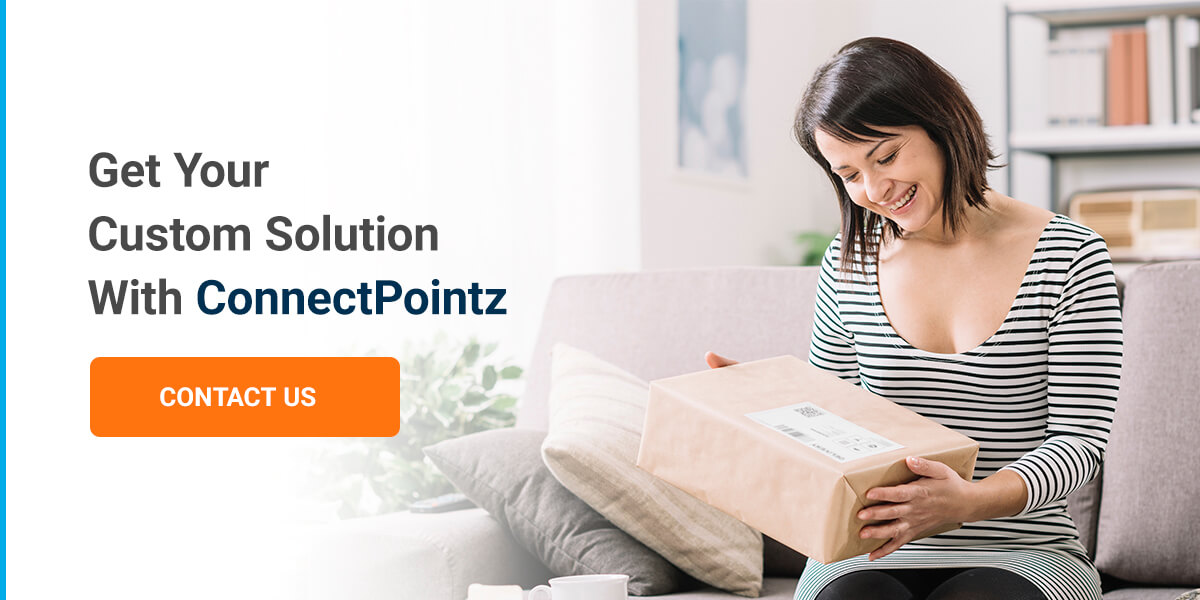 Get Your Custom Solution With ConnectPointz
With over 35 years of experience, the professionals at ConnectPointz know how to help your organization increase visibility and flexibility. ConnectPointz provides custom software solutions that meet your business needs and enable you to gain a better view of your operations while improving your customer experience. Our popular services include Electronic Data Interchange (EDI) compliance, order automation services, 3PL systems and application integration.
Our end-to-end automation services can also integrate your data from multiple channels, making it easy to keep track of logistics processes. We maintain affordable and predictable prices that give you the room you need to grow. Contact us today for more information on how we integrate with dropshippers and 3PL fulfillment services.