Supply Chain vs. Value Chain: What's the Difference?
The supply chain and value chain are two interrelated concepts — both drive growth and help businesses make profits. Although the terms are sometimes used interchangeably, supply chains and value chains differ in many ways. If you own a retail business, it can be highly beneficial to understand how the supply chain and the value chain overlap and how they're different. This way, you can use both to their full capabilities to achieve success.
What Is the Retail Value Chain?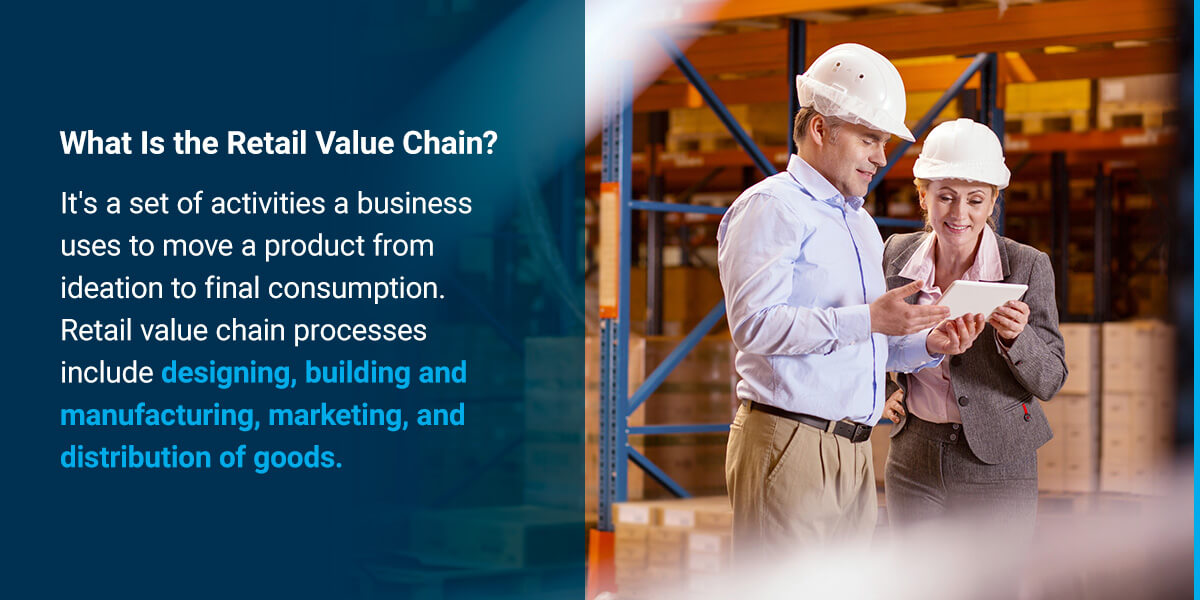 A retail value chain involves adding value to raw materials through a series of established business processes to create a product that satisfies customer needs. It's a set of activities a business uses to move a product from ideation to final consumption. Retail value chain processes include designing, building and manufacturing, marketing, and distribution of goods.
A retail value chain can help businesses identify inefficiencies and implement strategies to optimize productivity. Again, it enables you to provide products that meet customer needs and exceed expectations. For most entrepreneurs, maximizing the retail value chain is the secret to gaining a competitive advantage.
The value chain divides a business's operations into primary and support activities.
Primary activities are those that contribute to physically creating the products, such as:
Operations: Operations covers manufacturing and assembly, which includes the various processes used to convert inputs into outputs. Outputs are the final products or services the business produces. Adding value allows the company to charge a higher price than the price of materials and manufacturing.
Inbound logistics: Inbound logistics includes receiving and warehousing. It includes internally managing and handling inputs or external resources, such as raw materials and merchants.
Outbound logistics: Outbound logistics involves fulfillment and shipping, delivering products and services for final consumption. Outbound logistics includes systems for collecting, storing and distributing goods.
Service: Service covers customer support and warranties — all activities that help businesses maintain strong relationships with customers.
Sales and marketing: Sales and marketing include areas like packaging, advertising and brand-building. The purpose is to reach and familiarize the audience with the product or service. Ultimately, sales and marketing convert the target group into customers.
Support activities are those that support the business's primary activities, such as:
Procurement: Procurement means getting the essential materials and resources needed to create the product or service, such as finding and managing merchants and negotiating costs.
Human resource management: Human resources management covers areas like talent recruitment and training. It also involves building a robust company culture and maintaining strong employee bonds.
Technological development: Technological development features technical support like IT management, cybersecurity and research and development. It helps businesses optimize their technological capabilities.
Company infrastructure: Company infrastructure includes the various aspects of the business, such as general management, administration, legal, accounting, finance, quality assurance and public relations.
The Importance of the Retail Value Chain
Here are four benefits of retail value chain management:
1. Create Value for Customers
At its core, retail value chain management helps you optimize various processes to create something valuable for customers. When you offer people exactly what they want or need, they'll likely spend money to secure that product or service. Eventually, you build a profitable business with consumers who value your efforts.
2. Reinforce Strengths
A retail value chain allows you to think critically about individual business activities and how they work together. That way, you can identify pitfalls and develop strategies to fix inefficiencies. It's like putting your business under a microscope.
The value chain also lets you pinpoint your business's strengths, which is vital because you want to reinforce your most effective solutions. That enables you to experience exponential growth.
3. Simplify Decision Making
Imagine knowing which part of your operations is the most effective and which process requires a second glance. With that information, you can make practical and faster decisions than relying on intuition. To be competitive in the current market economy, developing a culture of taking action based on clear insights is crucial.
4. Reduce Cost
Understanding various business activities helps you reduce costs in many ways. For example, it gives you insight into how to allocate resources, which in turn allows you to reduce waste. Again, knowing the ins and outs of your business operations helps you eliminate redundancies and cut costs. Finally, you can save time, effort and money you'd otherwise spend using trial-and-error techniques.
What Is the Retail Supply Chain?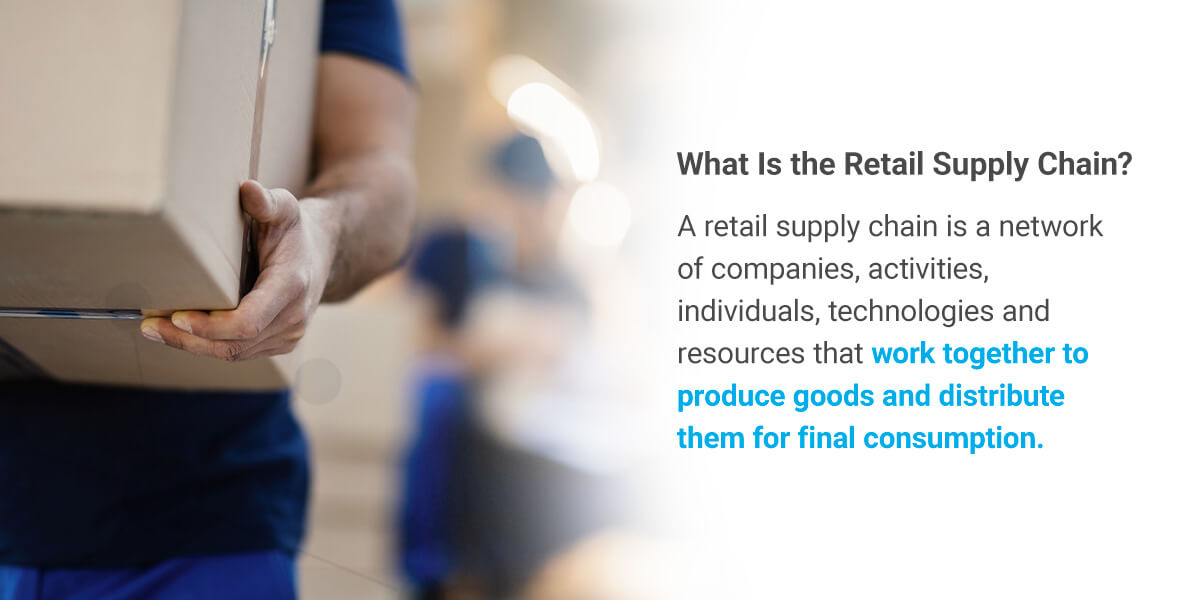 The retail supply chain involves the processes a business uses to manufacture products and deliver them to customers. In other words, a retail supply chain is a network of companies, activities, individuals, technologies and resources that work together to produce goods and distribute them for final consumption. A supply chain has many aspects, including:
Procurement
Order management
Manufacturing
Inventory management
Warehouse management
Shipping
Retail supply chain management lets you maximize your business's logistics throughout the entire product cycle, from the acquisition of raw materials to delivery to customers. There are many benefits to improving your supply chain strategies. Like retail value chains, supply chains can improve client satisfaction. Supply chain management also maximizes efficiency and helps you compete in your industry.
The Importance of the Retail Supply Chain
Explore four benefits of retail supply chain management:
1. Manage the Cost of Inventory
Inventory costs are the expenses you incur by ordering and holding inventory. They constitute one of the largest costs retailers incur. Effective chain management strategies can help you reduce these expenses by improving demand forecasting. Predicting the volume of incoming demands enables you to find the right balance between purchasing and storing inventory, eliminating waste. Additionally, your storage costs are reduced.
2. Avoid Stockouts
Stockout is when you run out of stock of a specific item. It may be caused by many factors, such as supplier delays or cash limitations. Stockouts can affect customer satisfaction and ultimately reduce your profit margin. One goal of supply chain management is to prepare adequately for the future, which can help you anticipate and avoid issues like stockouts.
3. Build Trust With Customers
You increase customer satisfaction and build long-term relationships by enhancing your supply chain and eliminating stockouts. Proper supply chain management allows you to deliver as expected and have control over your processes, which builds reliability and trust in the eyes of your customers.
4. Improves Business Agility
As a retailer, effective supply chain management can help you build a robust and agile business. It lets you quickly deliver affordable products, increasing your bottom line without necessarily selling more products. Exceeding client expectations also enables you to create a strong brand, a vital component for business growth and continuity.
Retail supply chain management requires detailed planning and proper execution but adds value to your business. It makes your operations more efficient, builds resilient structures and allows you to be consistent. Understanding market uncertainties is an excellent way to stay relevant year-round.
Key Differences Between the Supply Chain and Value Chain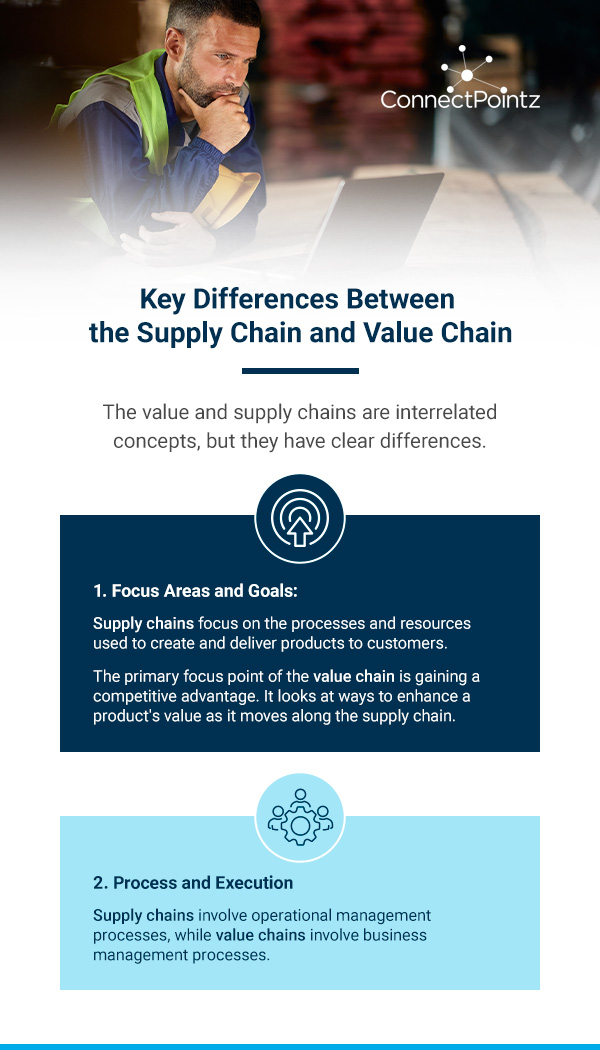 The value and supply chains are interrelated concepts, but they have clear differences.
1. Focus Areas and Goals
Supply chains focus on the processes and resources used to create and deliver products to customers. Supply chains encompass acquiring raw materials, suppliers, storage, manufacturing, distributing, retailing and delivery to customers. Businesses drive growth, reduce costs and increase speed and product quality throughout the supply chain.
In comparison, the primary focus point of the value chain is gaining a competitive advantage. It looks at ways to enhance a product's value as it moves along the supply chain. Although supply chains also aim to improve customer experience and satisfaction, creating value in the product for competitive advantage is more central to value chain strategies. The approaches are more consumer-centric.
You may have noticed that supply chain activities predominantly involve manufacturing and transporting physical items efficiently to cut costs. On the contrary, value chain activities, whether primary or supportive, include efforts to help the business develop products that deliver value to customers.
2. Process and Execution
Supply chains involve operational management processes, while value chains involve business management processes. Operational management processes are the physical or logistical aspects of your day-to-day activities that help streamline operations and maximize profit.
Business management processes are more analytical and involve implementing strategies to improve results. Within a value chain context, the business management process includes gathering information to know what customers value and learning how to create products that satisfy those needs.
Why Is There Confusion Between the Value Chain and Supply Chain?
There are many reasons why suppliers and manufacturers may find the two concepts confusing. To begin, both aim to help companies generate profit by manufacturing and delivering goods. Additionally, the two concepts are sometimes interdependent. Finally, some of the functions performed under them overlap.
However, even where the individual activities coincide, you can still see a difference between each concept. For instance, supply and value chain strategies both involve transportation. Yet, supply chain management may focus on coordinating different transportation activities to enhance efficiency and reduce costs. In contrast, value chain management maximizes delivery times so customers find value in the service.
Here is another example. Both systems invest in storage for different reasons. While supply chains are typically concerned with safe, practical and affordable warehousing, value chains often focus on storing the products to avoid damage and maximize consumer value.
Supply chains and value chains are indispensable to a business's success. As a result, business owners and managers need to develop strategies that best incorporate these systems into their workflow.
Examples of Supply Chains and Value Chains
Here are some examples of how supply and value chains work in the retail industry.
Retail Supply Chain Example
A customer orders a product on your website, which notifies your sales team about the request. The sales team contacts the supplier or warehousing team to arrange the product for pickup. The dispatch team collects the item and delivers it to the customer. When the customer finds discrepancies with the product, they contact customer service and ask for a return, exchange or refund. A logistics team ensures each stage is smooth and fast throughout the process.
Retail Value Chain Examples
A retailer in the apparel industry studies the market and identifies clothing in high demand. The retailer works with a supplier to get stock into their warehouse. The warehouse receives the supply and stores it. The marketing team advertises the product to customers and provides other relevant information, like purchasing details. A customer orders from the merchant's website, and the product is delivered to them. Customer relations later contacts the customer to determine whether they are satisfied with the service.
In another example, a research and development team conducts research to learn about current trends for a particular product and looks for ways to make it better for users. The design team takes the idea, creates a prototype, tests the product and sends it for mass production. The marketing team educates customers about the benefits of the products and works with the sales team for distribution. Customer support follows up for feedback and collects new information on where to improve.
ConnectPointz Supply Chain Integrations Solutions
Supply chain and value chain management help drive growth for businesses. They both require strategic planning and effective implementation to work optimally. Although manual strategies are effective, digital solutions allow companies to emphasize and realize their potential and supply chain processes to unleash new capabilities.
At ConnectPointz, we provide integrated solutions that allow you to streamline your entire retailing process. Whether you're an established or new retailer, our technology can help you automate the order-to-cash cycle and put you in control of the supply chain. ConnectPointz makes it easy to onboard new merchants, regardless of existing technological requirements and challenges.
Since 1985, we've worked to provide software development and integration solutions for businesses just like yours. If you're interested in maximizing your supply chain and value chain with the help of comprehensive solutions, turn to ConnectPointz. Contact us now to learn more.