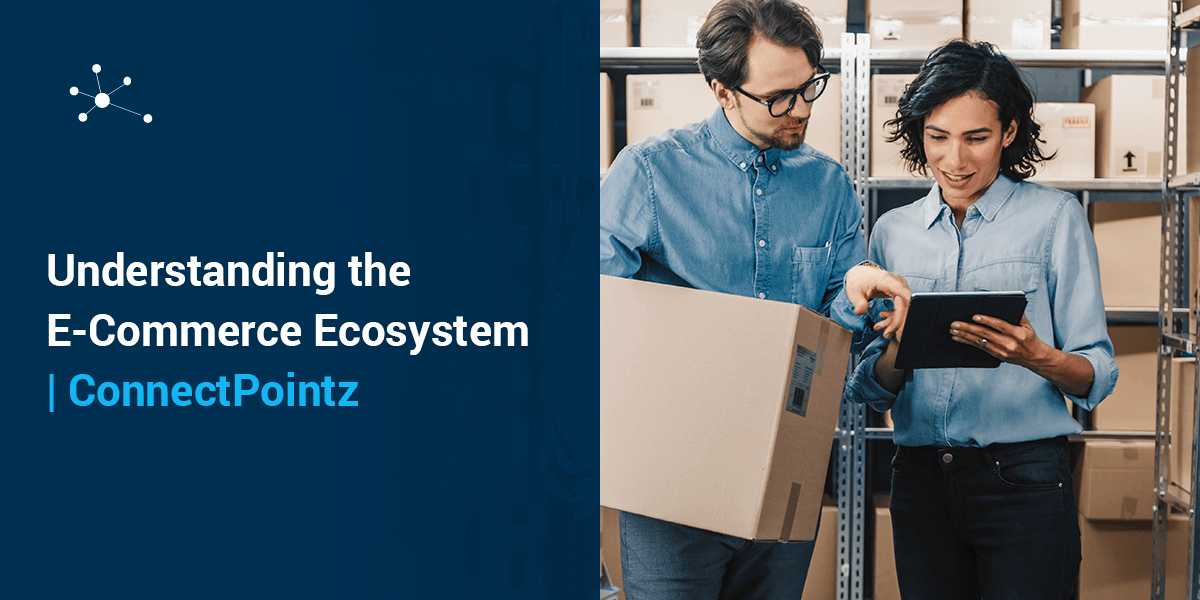 In today's fast-paced and highly competitive e-commerce world, you need a healthy e-commerce ecosystem to succeed. E-commerce refers to the buying and selling of services or goods via the internet, as well as the transfer of data and money to complete these transactions. A successful e-commerce ecosystem brings together a wide variety of e-commerce tasks and responsibilities into one interconnected system. By understanding the different parts of an e-commerce ecosystem and how you can use them, you can see greater e-commerce success.
Learn more about the popularity of e-commerce and the main components of e-commerce ecosystems below.
How Popular Is E-Commerce?
E-commerce is steadily becoming one of the most popular methods to buy goods and services, with the future of e-commerce looking exceptionally bright. In 2020, e-retail sales made up over 18% of worldwide retail sales, with this number expected to grow to 21.8% in 2024, making global e-commerce capabilities a priority of many companies. Additionally, in the U.S., retail e-commerce generated over $431.6 billion in revenue in 2020, and by 2025, retail e-commerce revenue is expected to grow to around $563.4 billion.
The ever-growing nature of e-commerce has lead to a rise in direct business-to-consumer sales through digital channels. Online shoppers want to order and receive goods and services as fast as possible, and there's no indication that this priority is going anywhere. Any business wanting to increase its sales potential can use cross-border e-commerce platforms and systems to provide a more convenient shopping experience to its customers and draw in its target audience.
Understanding the Components in the E-Commerce Ecosystem
Due to the popularity of e-commerce, you may be interested in optimizing your e-commerce sales. A successful online business will rely on an e-commerce ecosystem to succeed. This ecosystem comprises a network of interconnected systems designed to assist companies as they conduct business over the internet. Some of the primary components include e-commerce platforms, online retailers, warehouse management systems, online marketplaces and enterprise resource planning (ERP) systems.
A business's size typically correlates to the number of components it needs in its e-commerce ecosystem. Small businesses may only use a handful, while a larger organization may use all of the components. By understanding the e-commerce ecosystem's main parts, you'll be better prepared to set your business up for e-commerce success.
As you build your e-commerce strategy and ecosystem, take a moment to learn more about an e-commerce ecosystem's main components below:
1. E-Commerce Platforms
E-commerce platforms refer to the software applications that buyers and sellers utilize for online transactions. On an e-commerce platform, a consumer can usually browse and select products or services, placing items in a virtual shopping cart. They then proceed to checkout, where they pay the seller for their services or goods.
In the e-commerce world, you can find three primary kinds of e-commerce platforms — platform-as-a-service (PaaS) platforms, software-as-a-service (SaaS) platforms and on-premises platforms. Learn more about these platforms below:
On-premises platforms: An on-premises e-commerce solution is a platform hosted by a retailer or seller, with the management of this system assigned to the seller's in-house IT staff. This platform gives companies greater control over their e-commerce RF site or sites and allows them to create a more customized system for their business's needs.
PaaS: PaaS platforms provide businesses with e-commerce solutions via the internet, giving clients hardware and software tools. Companies tend to enjoy using a PaaS platform, as it allows their developers to build applications and software without needing to build their platform from scratch like an on-premises platform would require.
SaaS: Like PaaS platforms, SaaS platforms provide businesses with e-commerce solutions via the internet. Unlike PaaS platforms, SaaS platforms only provide clients with software, as they don't include hardware. Clients will access SaaS software through the cloud, and this software is often best for businesses who want a platform that requires minimal input from their staff.
Some of the most popular e-commerce platforms include Wix, Squarespace, Commerce Cloud, BigCommerce, Shopify, Magento and Salesforce. Squarespace, WooCommerce and Shopify are often ideal for smaller businesses since they're easier to use and quickly set up. Larger businesses tend to use platforms like BigCommerce and Magento due to their ability to handle high order volumes.
2. Online Marketplaces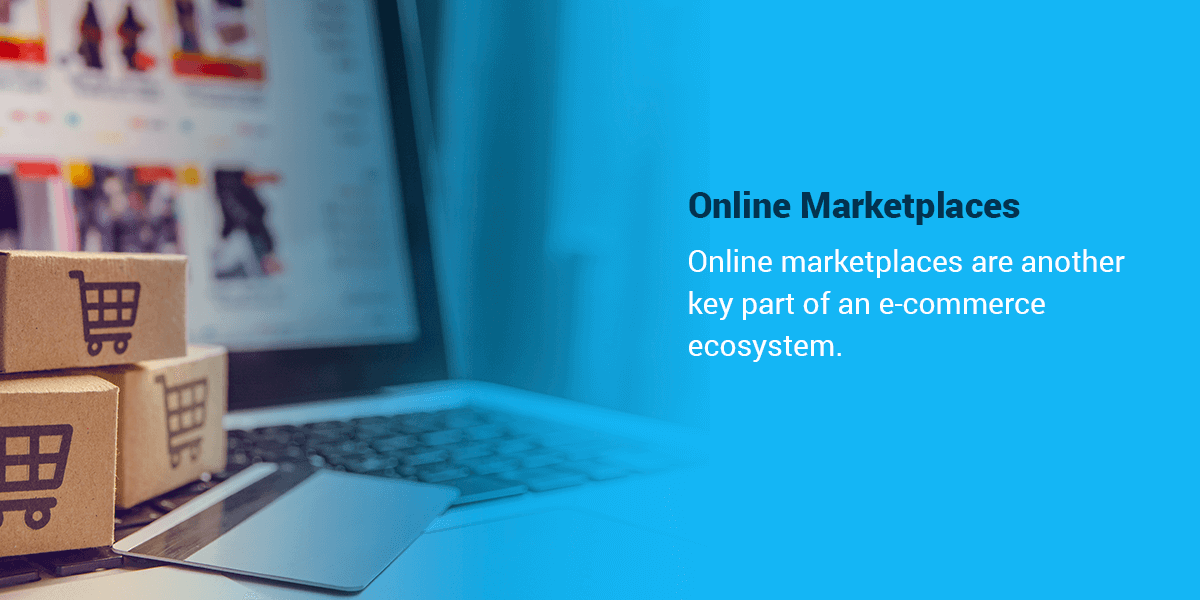 Online marketplaces are another key part of an e-commerce ecosystem. These marketplaces take the form of an app or e-commerce website designed to facilitate shopping, with goods and services offered by various sellers. Instead of owning any inventory, online marketplaces host other businesses' inventories. These online marketplaces help to aggregate and present goods to consumers and facilitate the buying and selling process.
Popular real-world examples of online marketplaces include Amazon and eBay, but you can find many other types of online marketplaces available today. Regardless of the marketplace's size, many consumers enjoy the flexibility these sites provide to them. Instead of being restricted to a brick-and-mortar store's inventory, a consumer can use an online marketplace to access various sellers' inventories to find the right product for them.
If you're interested in utilizing online marketplaces for your e-commerce platform, you'll also want to choose between a horizontal, vertical or global marketplace. Vertical marketplaces refer to a marketplace selling a single type of product from multiple sources. In contrast, a horizontal marketplace is a marketplace selling multiple kinds of products, but all these products feature a single characteristic. A global marketplace is one that basically sells everything, such as Amazon.
3. Online Retailers
Online retailers refer to a single vendor selling their product online via their website. An online retailer takes complete control over manufacturing, sourcing, storing and distributing their products. Since these companies provide their products on an e-commerce website they own, they receive all of the proceeds from sales, rather than having a percentage of it go to an online marketplace.
Some popular online retailers include Walmart, Target, The Home Depot and Apple. All of these companies operate their online stores, where they sell their inventory directly to consumers. While these online retailers have to put in more effort to set up the infrastructure necessary to facilitate online transactions, they eliminate the need to go through an intermediary, such as Amazon, to sell their goods.
4. Warehouse Management Systems (WMS)
Many third-party logistics (3PL) companies and private warehouses often rely on WMS software to assist with their operations. This software helps manage and track many different kinds of activity within a warehouse. These activities include those related to shipping, packing, receiving, putaway, inventory management and picking. WMS software also allows companies with multiple clients to track every item in their inventory by the owner.
WMS is essential to many e-commerce operations, as it can easily integrate with shopping cart platforms and manage e-commerce operations.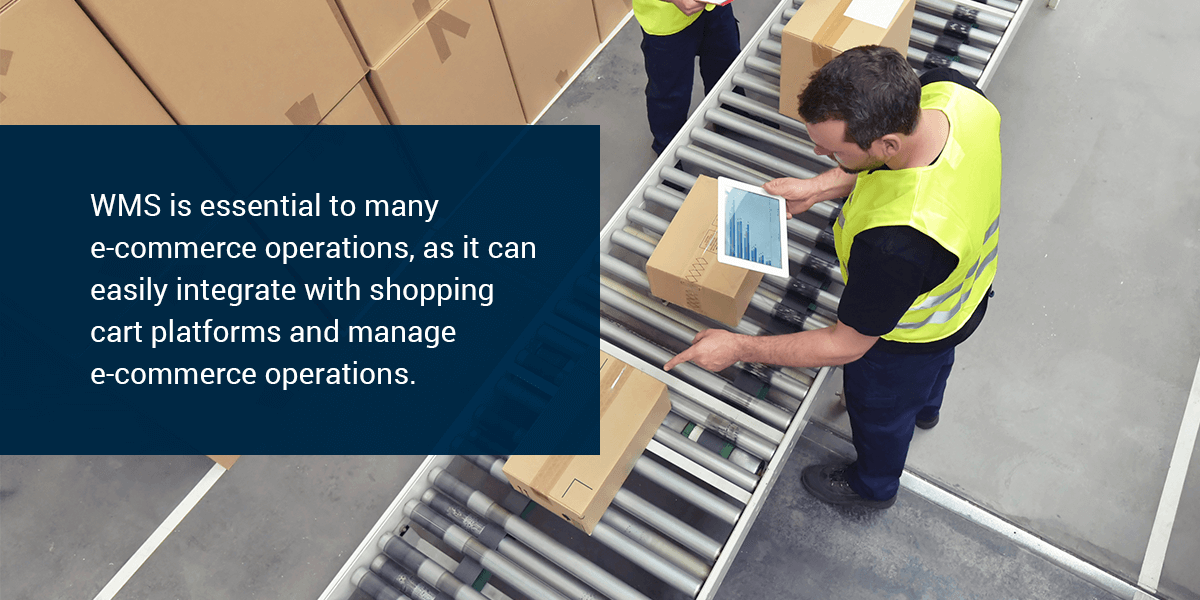 One of the most popular types of WMS software is Oracle Warehouse Management Cloud. With this platform and others, users can receive full visibility and control over their warehouse's inventory.
WMS software generally helps companies cut down on their operating expenses by reducing the amount of wasted space in their warehouse and the labor required to manage their inventory. Since this software gives users greater control over their inventory, they can more easily keep an eye on expiration dates, perform cycle counts and track any shipments. Additionally, users gain more inventory visibility and organization ability by utilizing the software's RFID tagging, serial number and barcoding features.
5. ERP Systems
The final main component of an e-commerce ecosystem is an ERP system. These systems are a type of software used to integrate business processes into a single network. When a company utilizes an ERP system, it can place multiple functions, such as inventory software, HR tasks, warehouse management and IT services, into one package, allowing these different functions to work harmoniously together. Many companies like to use an ERP system in their e-commerce efforts, as it places many e-commerce responsibilities and programs in one package.
In the real world, you can see companies using ERP systems to streamline the order process. When a customer orders an item on an e-commerce site, an ERP system will automatically send the customer a receipt and confirmation email, select the product from their company's inventory data and then generate a shipping label. The software can also provide the customer with order tracking information and update your company's financial records via an automated accounting system to showcase the revenue generated from the sale.
Since ERP software can automate multiple functions during and after the order process, you can streamline your order process and make your website much more manageable. An ERP system can help you keep more accurate and organized inventory data, as it can update itself whenever a sale takes place. Additionally, the software can improve your customer service, as it can keep buyers more informed about their orders.
Some popular examples of ERP systems include SAP and NetSuite. No matter what ERP system you choose for your needs, the best ones will integrate with various applications and programs to better link all of them together. Since you can place many business applications in a single ERP system package, you can better share data and communicate information between departments.
ConnectPointz Ties the E-Commerce Ecosystem Together
With the many components of an e-commerce ecosystem, you may want some help connecting the parts you need to optimize your e-commerce efforts. At ConnectPointz, we offer a platform designed to streamline data exchange between various parties and tie your entire e-commerce ecosystem together. We also regularly connect our clients with our e-commerce retail partners like Shopify, Amazon, Costco and hundreds of integrated e-commerce-focused applications and systems.
With over 35 years of technology and industry experience, we offer clients a platform with a huge ecosystem featuring several integrated e-commerce-focused applications and systems. Our robust platform provides manufacturers and brands with an omnichannel and fully automated experience designed to help them sell their products online.
Find out more about the advantages of partnering with ConnectPointz: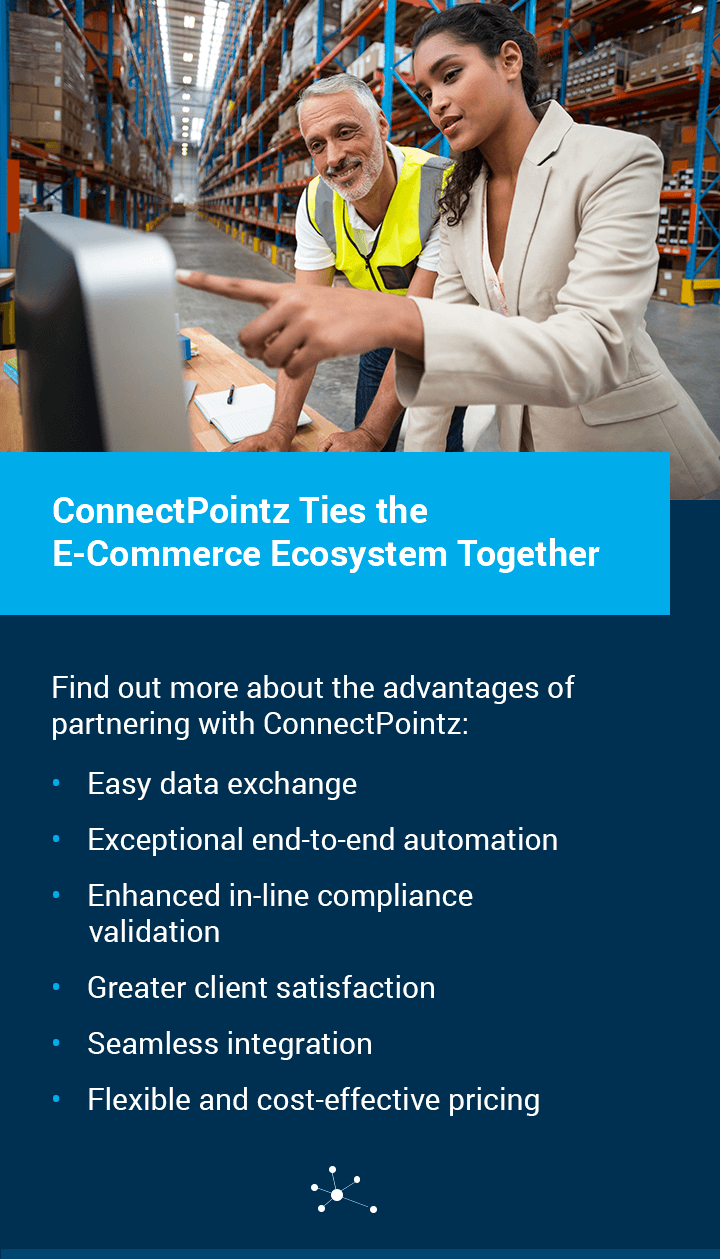 Easy data exchange: With ConnectPointz, you can quickly use any retail partner's system to trade electronic documents and data. We offer electronic data and delivery in every format, such as EDIFACT, IDOC, EDI, JSON and CSV, making the data exchange process simple. Our data exchange functionality makes it easy for you to receive e-commerce insights about your business and supply chain.
Exceptional end-to-end automation: With our software, you can automate almost anything, giving you the option to automate key tasks related to everything from ordering to shipping. For example, you can automate shipping and packing lists, shipping labels and production reports, all in your preferred format. We also offer automation with any ERP or accounting platform, such as Acumatica, Microsoft Dynamics, QuickBooks, Sage, NetSuite and SAP. With our end-to-end automation, you can speed up many key tasks and devote your staff to other responsibilities.
Enhanced in-line compliance validation: Electronic data interchange (EDI) compliance is a crucial part of any business. Our platform comes with enhanced in-line compliance validation features to ensure you always meet various EDI standards. Due to our platform's greater compliance, you can eliminate any inefficiencies and slowdowns resulting from non-compliance, such as incorrect formatting.
Greater client satisfaction: At ConnectPointz, we make client satisfaction a priority. We ensure clients have 24/7 access to status updates, reviews and approvals. Our onboarding processes for online merchants are fast and easy, so you can get to work faster. Unlike our competitors, we're also committed to providing our clients with a completely customizable and flexible solution to ensure our platform can easily fit into your business processes.
Seamless integration: Since we offer custom software solutions, our platform seamlessly integrates with your e-commerce strategy and general business needs. Many of our customers enjoy how they can integrate applications and data from multiple channels into one platform. When you choose ConnectPointz, we'll deliver a customized solution that unifies your organization's services, applications, systems and databases to help you stay as competitive as possible in your industry.
Flexible and cost-effective pricing: Like our ability to customize your solutions, we also offer flexible pricing, with multiple options for you to choose from. As a result, you'll only pay for what you need, helping you receive a cost-effective platform regardless of your business's size. Since we value transparency in all that we do, you can review our pricing before you even request a quote.
Learn More About E-Commerce Solutions From ConnectPointz
With all of the advantages of partnering with us at ConnectPointz, you might be interested in working with us for greater e-commerce success. We're dedicated to delivering e-commerce insights that help you plan for the future and stay on top of the latest trends. Our many case studies show just how beneficial our platform can be for businesses looking to increase their e-commerce sales and improve their business operations.
If you're interested in using ConnectPointz to better connect your e-commerce ecosystem or have any questions, please feel free to contact us or complete our simple four-step registration process. Sign up for a free demo on our homepage to give you more insight into how we can help.