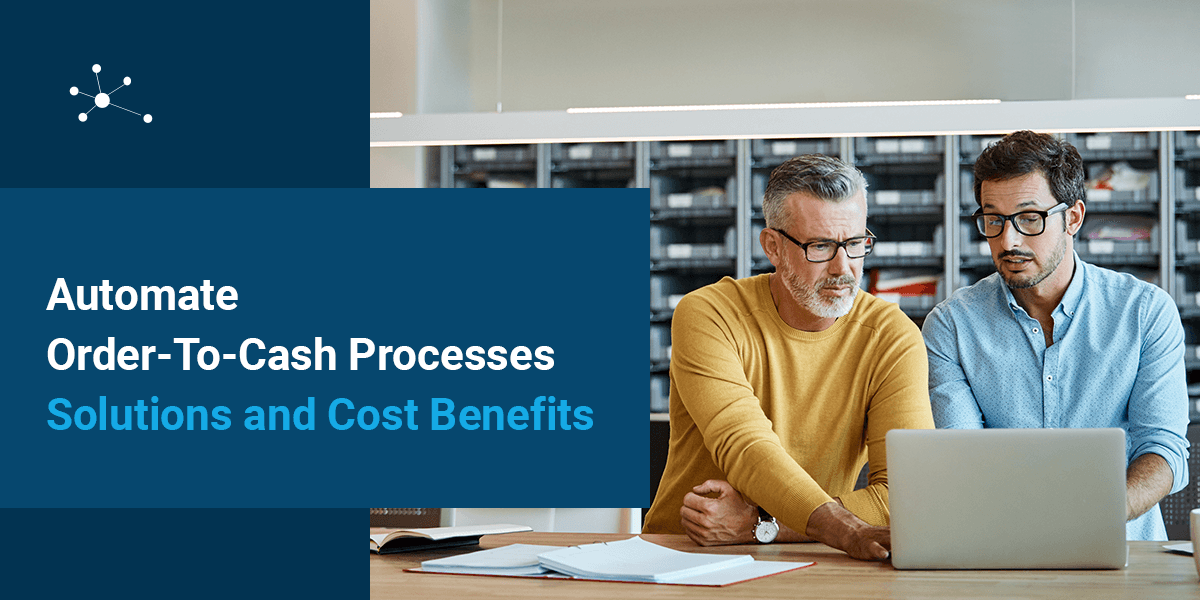 The order-to-cash (O2C) cycle is key to your business's ability to fulfill customer orders in a timely fashion and handle all aspects of a sale. Many companies don't get the most out of their O2C cycle due to their reliance on manual processes. With enterprise resource planning (ERP) systems and other O2C cycle solutions, you can automate many of your O2C processes to improve efficiency, increase customer satisfaction and boost profitability.
Find out more about the O2C cycle and the reasons why many businesses choose O2C automation. You can also learn more about how the ConnectPointz O2C automation software can help your business optimize your O2C cycle.
What Is the Order-To-Cash Cycle?
The O2C cycle refers to every part of a company's order processing system. This cycle covers the business and financial process required for companies and buyers to work together whenever a buyer makes an order. The cycle begins when a buyer places an order and lasts until the company completes reporting and data management tasks after receiving payment.
Common steps in the O2C cycle include product shipping, payment collection, end-to-end process reporting, and invoice creation. These steps are crucial to companies wanting to improve their bottom line and develop a strong relationship with their customers.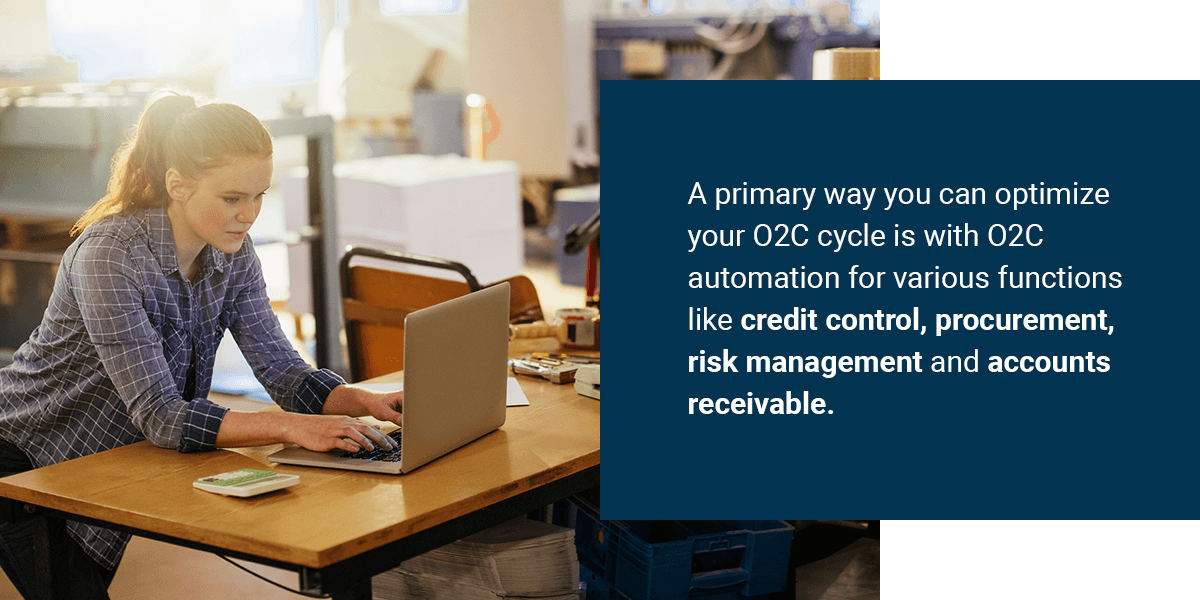 Why Do Businesses Need Order-To-Cash Automation?
Since the O2C cycle covers so many different aspects of an order's processing, many companies try to optimize it to receive the best results possible. A primary way you can optimize your O2C cycle is with O2C automation for various functions like credit control, procurement, risk management, and accounts receivable.
When a business doesn't automate its O2C cycles, staff members must manually operate and oversee several processes. This sort of manual work in non-automated or partially automated O2C cycles can slow a company's workflow, resulting in delays and customer dissatisfaction. Additionally, non-automated O2C cycles can result in more errors, as people are more likely to make mistakes while entering data or switching between different systems.
By choosing O2C automation services, a company can offload O2C tasks to highly advanced O2C software. This software helps companies gain a competitive edge by reducing inaccuracies and speeding up key processes in the cycle.
How Automation Can Help Every Step of the Order-To-Cash Cycle
By reviewing the main O2C steps and understanding how automation can help, you can make a more informed decision about if O2C automation software is right for you. Find out more about the main steps in an O2C cycle and how automation can help improve cycle times below:
1. Receive and Manage Order
As soon as your company receives an order from a customer, the O2C cycle begins. In this stage of the cycle, you manage the order and notify relevant staff members or departments of the purchase. In an automated order management system, relevant team members will receive instant notifications and can get started on appropriate tasks as fast as possible.
2. Manage Customer Credit
As soon as a first-time customer places an order, they'll need to go through a credit approval process. Instead of running this approval process manually or making staff keep track of already-approved returning customers, an automated system can handle all this for you. Automated software will run new customers through an automatic credit approval process, approve or deny applicants as needed, notify financial personnel about more complex cases and send returning customers straight to the fulfillment stage.
3. Fulfill Orders
In a non-automated system, you have to assign staff to keep track of inventory counts to ensure you don't accept orders you can't fulfill due to a lack of inventory. If you accidentally accept an order you can't fulfill, you'll have to cancel the order and alert the customer. Automated inventory management software keeps track of your inventory automatically, denying unfulfillable orders and approving fulfillable orders. This software also standardizes orders in an easy-to-understand digital format.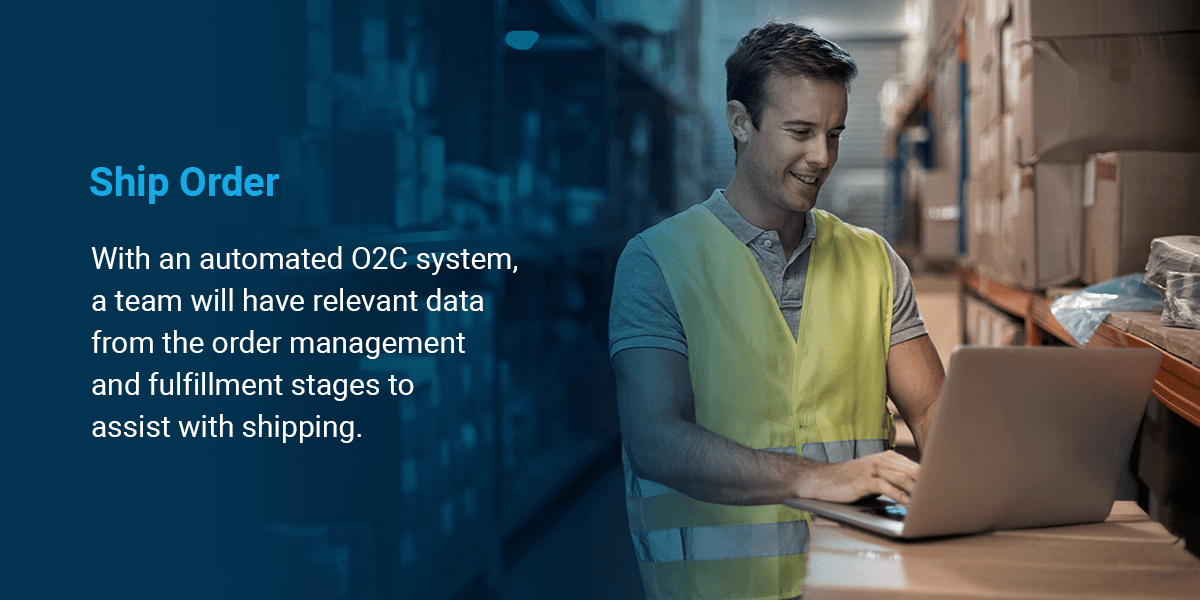 4. Ship Order
After the fulfillment stage, you'll need to ship a customer's order. In a manual system, staff members can be overwhelmed with the amount of coordination required to get an order from the warehouse to a customer on time. With an automated O2C system, a team will have relevant data from the order management and fulfillment stages to assist with shipping. Automated O2C programs can also help a shipping team select the right carrier pickup schedules and ensure customers receive their products on time.
5. Generate an Invoice
Once the shipping stage is complete, you likely send an invoice to your customer. If you rely on manual invoice creation, it's more likely that inaccuracies and delays can occur, leading to dissatisfied customers and cash problems. O2C automation reduces the amount of manual input required for invoices by automatically generating them. These automated invoices will utilize data, such as shipping dates, order dates, order specifics, credit terms, and costs, to quickly generate an accurate invoice and send it to a customer.
6. Accounts Receivable
In a manual system, outstanding invoices can fall through the cracks, delaying your ability to receive payment. An automated accounting system can be set to flag outstanding invoices at specific times and alert relevant accounts receivable team members. An automated system can also help these team members quickly access order system data to correct mistakes and send out revised invoices.
7. Collect Payment
If you rely on manual payment collection, it's more likely payments process quickly, and customers receive bills after already paying. Unprocessed payments can also cause cash estimate inaccuracies.
An automated system will use your invoicing and order management systems to process a customer's invoice automatically. This ensures you do not double-bill a customer and keep relevant parties updated with the latest financial information. Additionally, the automated system can flag delayed payments or unpaid bills, alerting your accounts receiving team to take action.
8. Conduct Data Management and Create Reports
At the end of the O2C cycle, you can gain more insight into your overall performance with automated reporting and data management services. O2C automation software will track data throughout the O2C process to help management see where there might be slowdowns and areas to optimize. By identifying even minor inefficiencies in processes, your company can prevent them from snowballing into larger issues that affect the entire O2C cycle.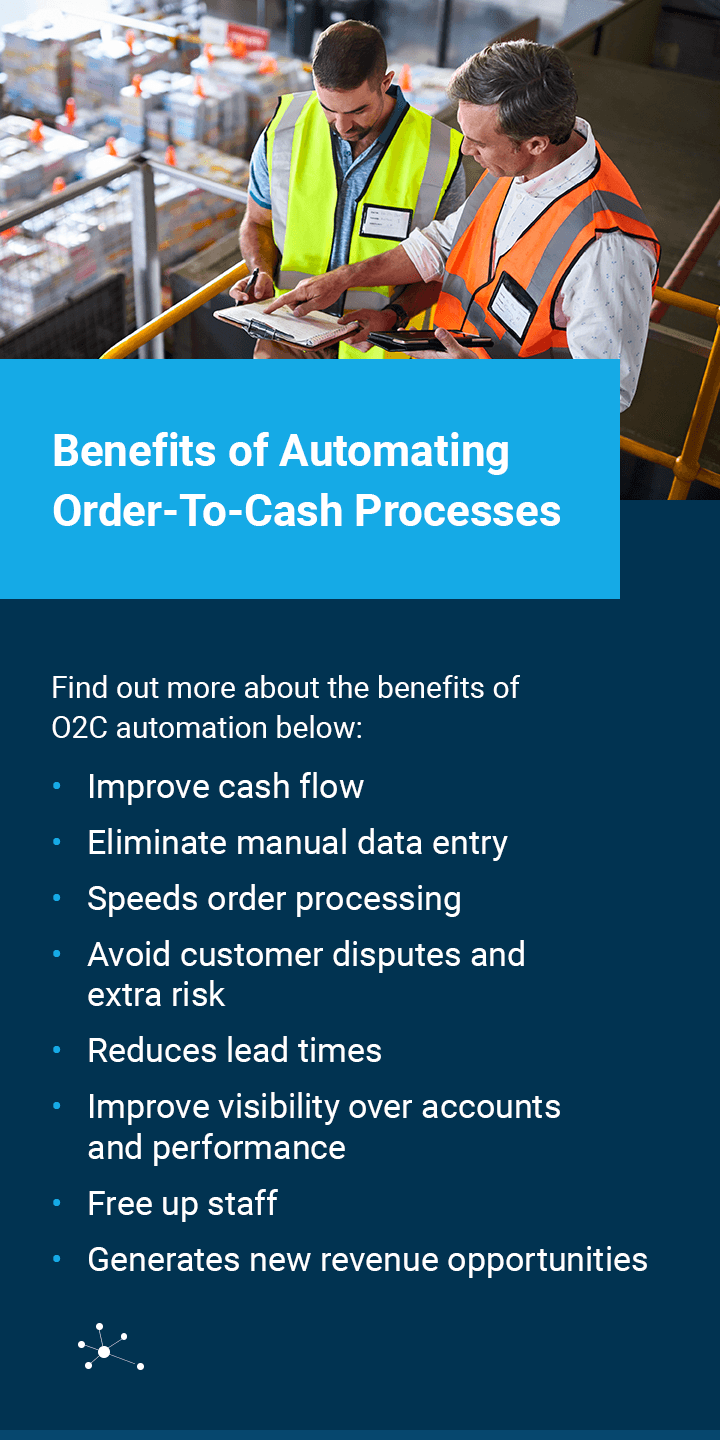 Benefits of Automating Order-To-Cash Processes
When you rely on software to fully automate your O2C processes, you can see several major benefits over non-automated processes, such as greater cash flow, faster order processing, and reduced lead times. Find out more about the benefits of O2C automation below:
Improve cash flow: One of the major benefits of O2C automation is its ability to make it easier for clients to pay your company for products and services. O2C solutions allow you to generate key sales documents, like customer invoices automatically. By automatically generating key documents, you streamline payment, increasing your company's cash flow. Additionally, you won't have to pay staff members to conduct key O2C processes, saving your company money in the long run.
Eliminate manual data entry: When you automate the O2C cycle, the software will handle the data entry for you. As a result, you don't have to allocate staff to conduct manual entry. This ability to offload data entry responsibilities to a program makes the normally slow data entry process faster and reduces inaccuracies due to human error.
Speeds order processing: Another advantage to using O2C automation is its ability to speed up the ordering process by eliminating manual data entry and written order forms. By increasing the speed of invoices and payments, you can raise your business's profitability. O2C software can also utilize automatic order routing to ensure an order gets seamlessly routed from one department to the next without getting lost in the shuffle.
Avoid customer disputes and extra risk: O2C automation software significantly improves communications with customers and reduces disputes as a result. Companies can give customers automated shipping and delivery notifications and issue them receipts, leading to greater customer satisfaction. Additionally, the software provides staff members access to key documents and data about a customer's order instantaneously, making it easier for the representative to clear up any disputes with customers and reduce your company's risk concerning customer dissatisfaction or inaccurate information.
Reduces lead times: Automated O2C processes help many companies reduce their lead times significantly. In non-automated systems, your staff members have to email documents between themselves, get signoffs for various transactions, and handle other tasks, lengthening lead times and raising the chance of misplaced orders. O2C automation software reduces lead times by automatically getting documents to needed departments so your team can start working immediately.
Improve visibility over accounts and performance: O2C automation software can give your staff a more comprehensive view of your inventory and ensure products are in stock before letting a customer make a purchase. O2C automation software also comes with tons of business metrics, giving you greater visibility over your company's performance accounts. The software can help you identify any buyers you might want to develop more of a relationship with and assist managers with decision-making.
Free up staff: When you choose O2C automation, you can significantly reduce the number of staff you have to devote to your O2C cycle. For example, you won't need to have staff working on manual data entry or monitoring every sales channel, as a program will do it for you. By freeing up staff with automated programs, you can assign them to more profitable tasks and expand your business efforts.
Generates new revenue opportunities: When you automate O2C processes, you can increase your business's efficiency. You'll also build stronger customer relationships due to faster processing times and reduced errors. These stronger customer relationships can incentivize customers to continue buying products from you. Greater O2C cycle efficiency also gives you more time to welcome new partners and grow your business.
Order-To-Cash Process Solutions From ConnectPointz
At ConnectPointz, we offer unlimited O2C configurations designed to automate every step of the O2C cycle. When you choose to integrate ConnectPointz with your enterprise resource planning platform, you'll see dramatic improvements in how your business manages, collects, analyzes, and stores its data as it relates to the O2C cycle. Our automated data capture, data extraction, and data management solutions eliminate manual data entry and free up your staff by empowering you to sync with other owned and 3rd party O2C systems and documents, such as purchase orders, sales orders, shipping, and packing lists, invoices, and inventory.
Our O2C automation solutions work with QuickBooks and other leading ERP platforms, such as NetSuite, SAP, and Acumatica. You can use our O2C automation solutions to automate the entire O2C process across all your vendors, sales channels, shipping carriers, logistic providers, and all of your other owned system assets.
We design all our solutions to ensure your staff can be easily onboarded onto the ConnectPointz platform. With our solutions' ease of use and quick onboarding requirements, staff members can quickly see results in their overall productivity.
Regardless if you're a Retailer looking to manage better its vendor relationships and data compliance, a Dropship Supplier needing a better way to manage its orders and inventory across multiple sales channels, or an Online Seller wanting a more effective way to communicate with its 3PL partner, ConnectPointz can design the perfect solution.
Why ConnectPointz?
Many companies choose our O2C automation solutions due to our ability to provide fully customized solutions. We will tailor our solutions to your particular O2C process and programs, optimizing your O2C cycle and making it easy for your staff to maximize every business partnership.
Our solutions are ERP agnostic, meaning they can seamlessly integrate with any electronic delivery format and protocol.
ConnectPointz also offers the most affordable, transparent, and predictable billing model.
When you trust ConnectPointz for O2C automation, you can expect to receive many benefits designed to give you an advantage over the competition.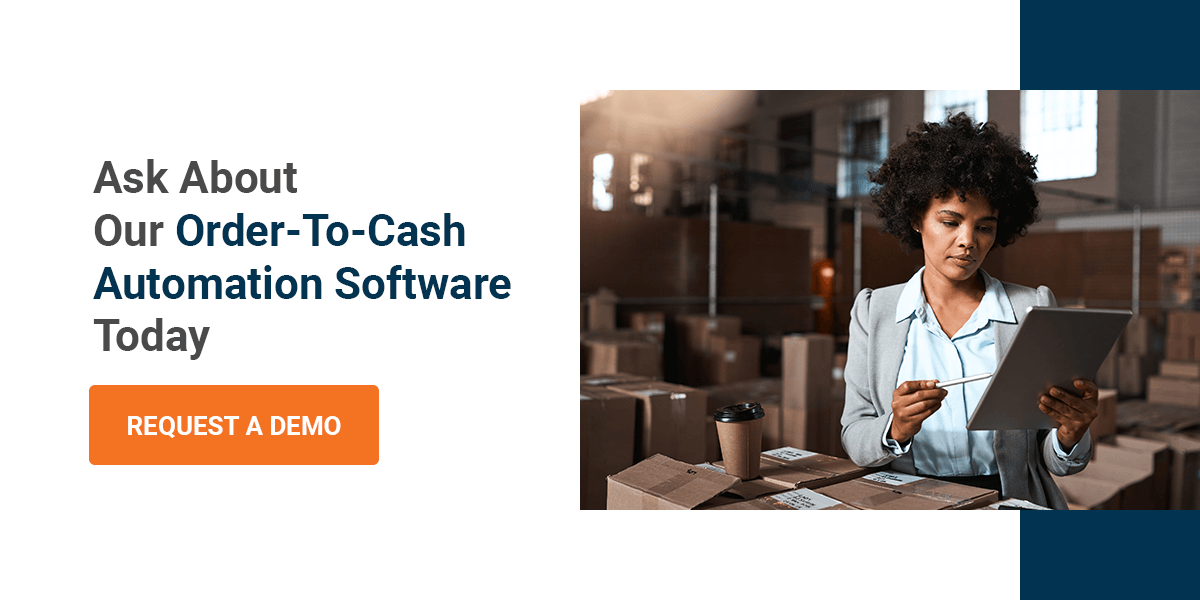 Ask About Our Order-To-Cash Automation Software Today
For over 35 years, ConnectPointz has helped thousands of customers automate their O2C processes. Regardless of the complexity of your business needs, we can help. When you choose our O2C automation solutions, you can be confident your O2C cycle will be as efficient and profitable as possible.
If you're interested in using our O2C automation solutions, you can register for a demo. For more information about how O2C automation can benefit your bottom line, contact us today.