Different members of the supply chain, from suppliers and distributors to manufacturers, use advance shipping notices (ASNs) to share detailed information about shipments. These notices help companies better manage inventory, make budgetary decisions and gain real-time visibility into product movement. They're simple to use and have a lot to offer, especially if you're looking to automate and simplify your processes. Let's take a closer look at what an ASN is in shipping and how it can help your operation.
What Is ASN Shipping?
An advance shipping notice — sometimes called an advance shipment notification or advance shipping notification — is an electronic data interchange (EDI) message that a shipper sends to a receiver before a shipment leaves its origin. Since it is available before the shipment arrives, it allows recipients to make important decisions about their business in anticipation of adding the goods to their inventory, such as increasing staffing or addressing errors. ASN can also come from businesses such as third-party logistics (3PL) providers, retailers and distributors — whenever they send goods, they'll send an ASN along with it. The message contains a plethora of information about the shipment, including its:
Size
Carrier
Ship notice number
Destination and origin
Purchase order number
Shipment and estimated delivery dates
Identifiers like a UPC, EAN or GTIN and their quantities
Other things you might see on an ASN include a description of the item, tracking numbers, shipping service levels and other identifiers. Upon receiving the shipment, a company can check the ASN against their original purchase order to ensure everything has arrived and is in good condition. It adds an extra layer of confirmation for a shipment to help ensure accuracy at every step.
This information helps the receiver understand what to expect and how to adjust their inventory needs accordingly. The ASN helps prevent items from getting lost or damaged in transit by providing more complete information about how they should be handled, such as fragile or perishable labels. It also allows the recipient to prepare for a shipment, such as by making space in their delivery bay or ensuring they have the appropriate staff for unloading.
ASNs may also be known as EDI 856, a manifest or DESADV, which stands for "despatch advice."
When to Use ASN Shipping
Visibility is one of the biggest benefits of ASN, meaning many shippers take advantage of it to improve various aspects of delivery, like budgeting and productivity. It offers a simple method of accessing data that can help improve operations in many ways. Some instances where you may want to use ASN shipping include:
Optimizing open-to-buy budgets and inventory systems: If you use an open-to-buy system, ASN allows you to update your inventory in real-time according to current orders. You can make sure your orders accommodate incoming inventory and optimize the entire system with up-to-date information.
Implementing just-in-time inventory: Similarly, ASN offers immediate visibility for keeping track of items as they move. Stay on top of any delays or interruptions for a well-managed just-in-time inventory system.
Automating your processes: Since ASN works through the EDI platform, it's easy to automate. By automating processes with ASN, you can reduce labor requirements and minimize errors by leaving the work to the computers.
Reducing errors: You may be able to improve accuracy with ASN, which provides a simple, straightforward approach to verifying orders and making adjustments correctly. For businesses with frequent errors, like damaged or missing products, using an ASN method can help reduce these issues.
Updating customers: With those real-time inventory updates, you can use ASN to send updates to your buyers, including tracking numbers quickly. You might also use an ASN to finalize payment and charge a customer's card.
If you're looking to increase visibility and better understand product movement, ASN shipping can be an excellent way to stay on top of things.
Benefits of ASN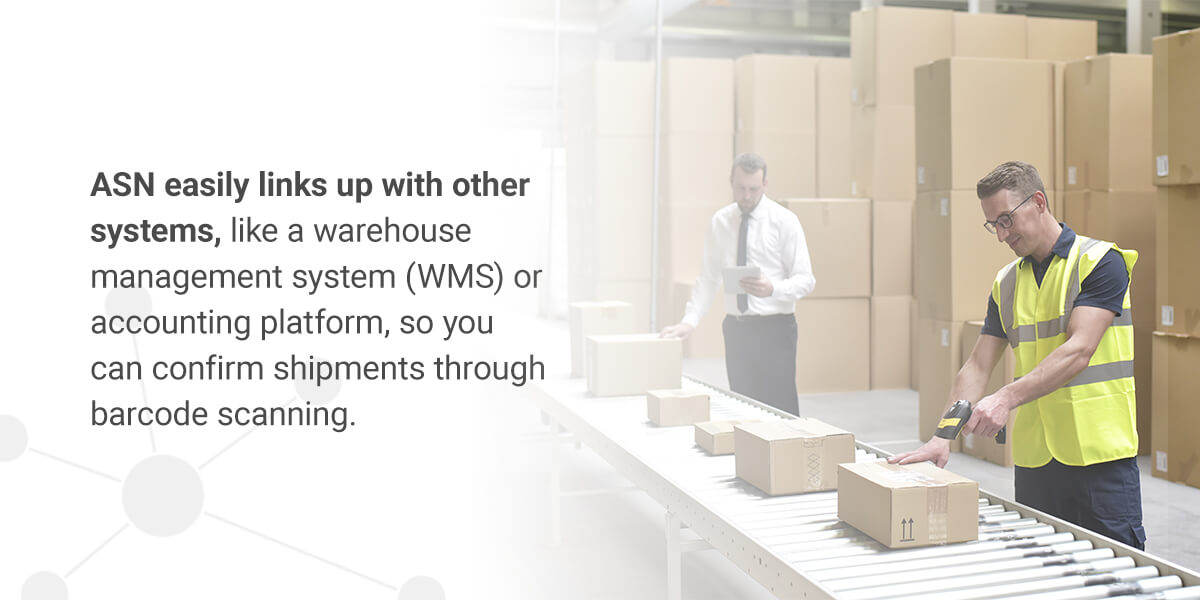 The advantages of ASN are considerable, but they'll differ depending on your role in the supply chain. However you handle products, these benefits typically come from the extensive visibility that ASNs offer — they make it easy to understand every detail of your shipments and adjust operations accordingly. ASN easily links up with other systems, like a warehouse management system (WMS) or accounting platform, so you can confirm shipments through barcode scanning. Whether you're looking to save time or reduce costs, ASN's high visibility can help.
Suppliers might:
Minimize order to payment cycles: Get paid faster by streamlining your order management process and ensuring quick product movements.
Track shipments and quickly address damages or missing goods: The ASN tells you where items are and when they're arriving. It also allows you to stay on top of any problems.
Improve accuracy and reduce stock-outs: If errors are a common problem for you, ASNs can offer improved visibility and automation to minimize errors. It can also help you better handle issues and prepare for them.
Move products to their destinations faster: ASNs allow you to respond to changing inventory needs and move products quickly.
On the retailer and distributor side, you could:
Reduce the costs of receiving goods through efficient scheduling: Speed up loading and unloading processes according to the information from the ASN for reduced labor costs and greater productivity.
Boost speed and accuracy: The data from the ASN can inform your overall product handling procedures and improve efficiency. With automated processes, you can expect fewer errors, too.
Minimize safety stock requirements: ASN's real-time updates make it easy to move more product with clear details on when your next shipment will arrive.
Address problems before arrival: Should the ASN reveal any hiccups, you can take care of them beforehand. If the order is short a few boxes, you can contact the shipper and sort things out before you need the items for a big sale.
Let ConnectPointz Help With ASN Shipping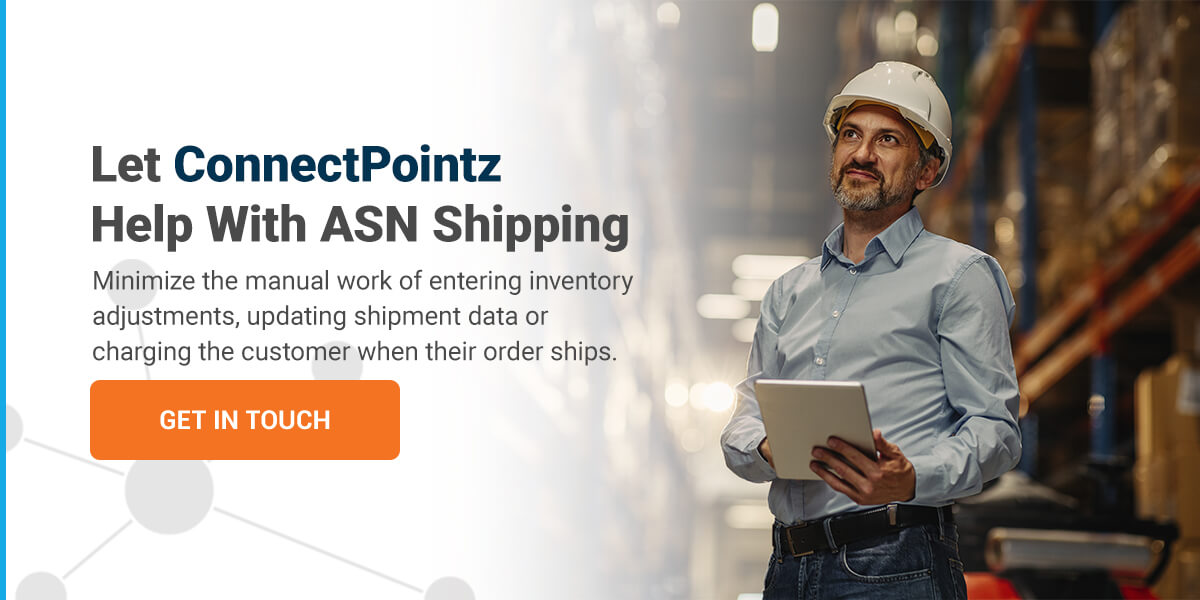 Whether you're a manufacturer, a 3PL provider, a retailer or another part of a complex supply chain, ASN is a valuable tool for streamlining and optimizing your work — and ConnectPointz can link it up with the different channels in your business. ConnectPointz is a comprehensive platform that connects various channels and can sync up the data from an ASN with other systems you use, like a WMS. Minimize the manual work of entering inventory adjustments, updating shipment data or charging the customer when their order ships. Reduce errors with automated processing and real-time visibility.
With ConnectPointz, you can maximize the benefits of ASN for your organization without time-consuming manual data handling. To learn more about using ConnectPointz with ASN, reach out to an experienced representative today!