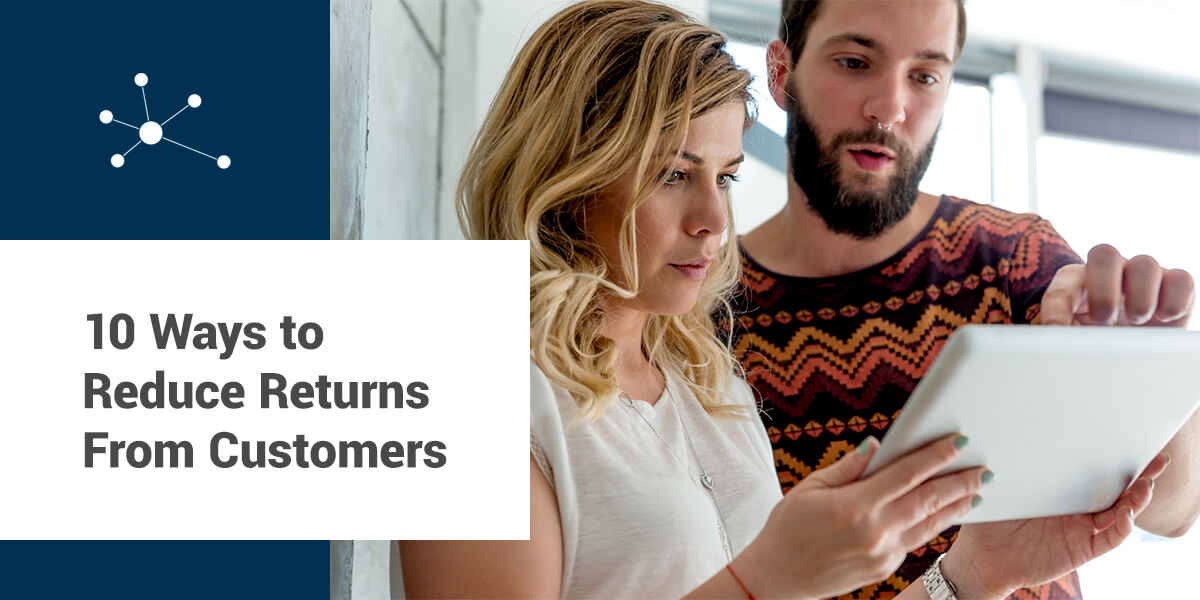 In 2020, consumers returned approximately $428 billion in merchandise, equating to roughly 10.5% of all retail sales in the United States. Around $102 billion of these products were purchased online through e-commerce outlets. While it may appear that retail stores take the brunt of product returns, this is not the case. Though 5% to 10% of in-store purchases get returned by customers, online merchandise sees return rates of up to 40%. E-commerce return rates have even doubled between 2019 and 2020.
If you're an e-commerce seller, you likely deal with frequent product returns. While these returns are completely normal, they can be hard on your company's product margins. However, if you're experiencing higher-than-average return rates this year, there are likely aspects of your website contributing to the returns. Luckily, all of these elements are completely correctable.
There are numerous ways to reduce returns and regain control of your business. Through this guide, you'll learn the importance of reducing product returns, common reasons customers return merchandise and ways you can reduce your site's returns rate.
Why It's Important to Address Product Returns
There are many advantages to minimizing product returns for your e-commerce business. When you address your returns and optimize your company's return process, you'll experience:
Increased profit margins: Perhaps the most significant advantage of reducing returns for your online store is boosting profit margins. When fewer customers send products back, your company enjoys greater revenue.
Time savings: When you address your product returns, your company spends less time dealing with damaged products, filing paperwork and initiating customer refunds.
Improved customer satisfaction: Many customers who return merchandise are dissatisfied with their purchases in some way. When you evaluate these issues and use them to make the necessary changes, you give your shoppers a better customer experience.
Reduced costs: With fewer returns for your e-commerce site, your company saves money on shipping, replacement items, packaging materials, losses and other costly factors.
Greater storage space availability: Minimizing your product returns means freeing up storage space in your warehouse.
Higher recovery rates: While eliminating returns entirely is impossible, getting better at handling the returns process can lead to higher recovery rates for your business.
Common Reasons Why Customers Return Items
With billions of dollars of e-commerce returns, it's impossible to know the reason for every single return. However, many common occurrences cause customers to return items:
They received the wrong item: A primary reason for product returns is that the merchant shipped the wrong item to the customer. All it takes is one minor error in the pick, pack and ship process to send a shopper a product they didn't order.
The product didn't meet their expectations: Often, online shoppers will receive products that don't match their photos or descriptions, leaving them feeling mislead and ripped off. Some websites even use stolen images from other websites to sell low-quality merchandise to consumers.
The merchandise was damaged: Customers also return merchandise that was damaged in the shipping process from rough handling or inefficient packing materials. Some items even arrive in a defective condition, giving the customer the right to get their money back.
The product was the wrong size: Online shoppers often return items that were the wrong size for their needs, whether through their error or the merchant's fault. Studies show that 65% of customers cited fit issues as the reason for returning their purchases.
The item arrived too late: A purchase may arrive too late for the customer's intended use, prompting them to return it. For example, if an individual bought a product as a birthday present but didn't receive it in time for the birthday party, they would no longer need it.
They intended to return the item: Sometimes, customers will purchase more products than they intend to keep and send back the ones they do not want. Some shoppers even partake in wardrobing, a type of return fraud where customers buy items, use them for a one-time purpose and return them for a refund.
10 Ways to Reduce Product Returns
E-commerce returns are expected to reach $207 billion by the end of 2021 — a 10% increase from last year's returns rates. Luckily, there are many simple things you can do to reduce returns for your business. Implement the following tactics into your online store to reduce returns for your company any time of year.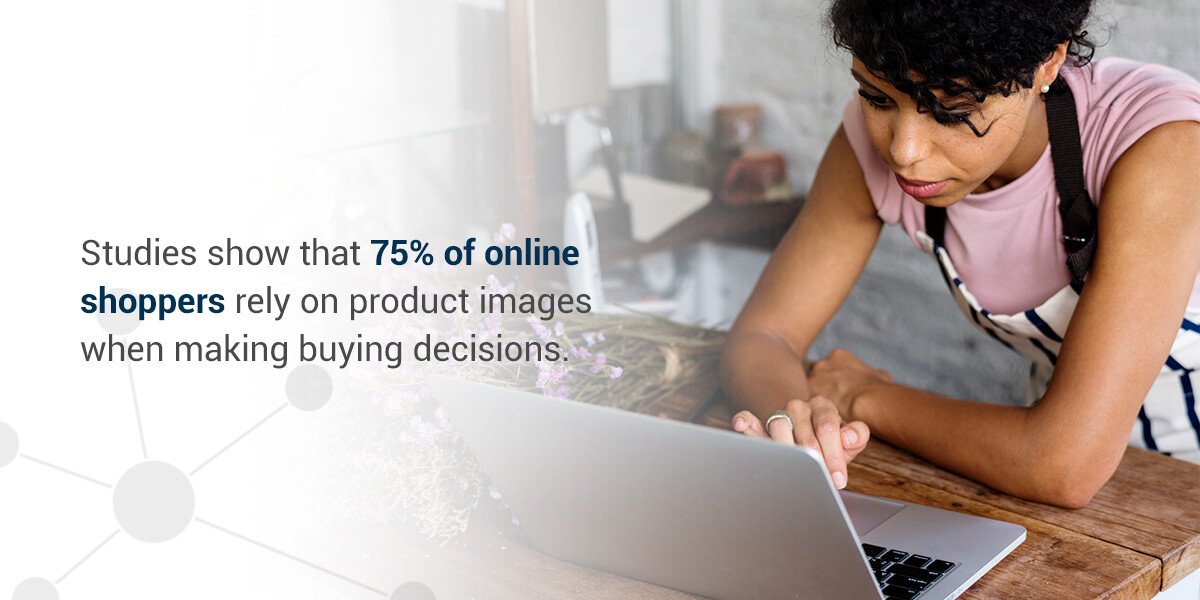 1. Use High-Quality Images and Videos
Studies show that 75% of online shoppers rely on product images when making buying decisions. Subsequently, 22% of returns result from products looking different from their photos. That's because customers are limited in their interactions with online merchandise, and they must rely on photos and product specs alone.
You can reduce these types of product returns by providing your shoppers with a comprehensive variety of high-quality images. Go through your website and evaluate your current product listings, noting whether the photos accurately represent your products. Are you using clear, high-resolution images or blurry, one-dimensional photos?
It's a good rule of thumb to take three to five images of each product from multiple angles to give shoppers a clear depiction of what they'll look like in person. You can also use 360-degree product videos to offer another way for customers to experience the item.
2. Enable Reviews
Customers tend to trust other customers' opinions of your products more than your product descriptions. That's why it's essential to enable product reviews on your website.
Reviews influence online shoppers to purchase products that fit their needs and avoid those that don't, ultimately increasing your sales and reducing your return rates. Product reviews also help you identify any common problems shoppers are having with your products and adjust your marketing accordingly.
3. Improve Your Product Descriptions
One of the primary reasons products don't meet online shoppers' expectations is inaccurate or poorly written product descriptions. You can bolster your product descriptions by including a wealth of relevant and accurate information to minimize any misrepresentation or confusion.
There are many elements you can include in your product descriptions to give shoppers a complete representation of what they can expect. Some important factors include a descriptive product headline and a detail-rich paragraph highlighting any relevant information about the product and what it can do for the customer. You should also include a bulleted list of easily digestible product specifications like the product's size, weight, material and dimensions.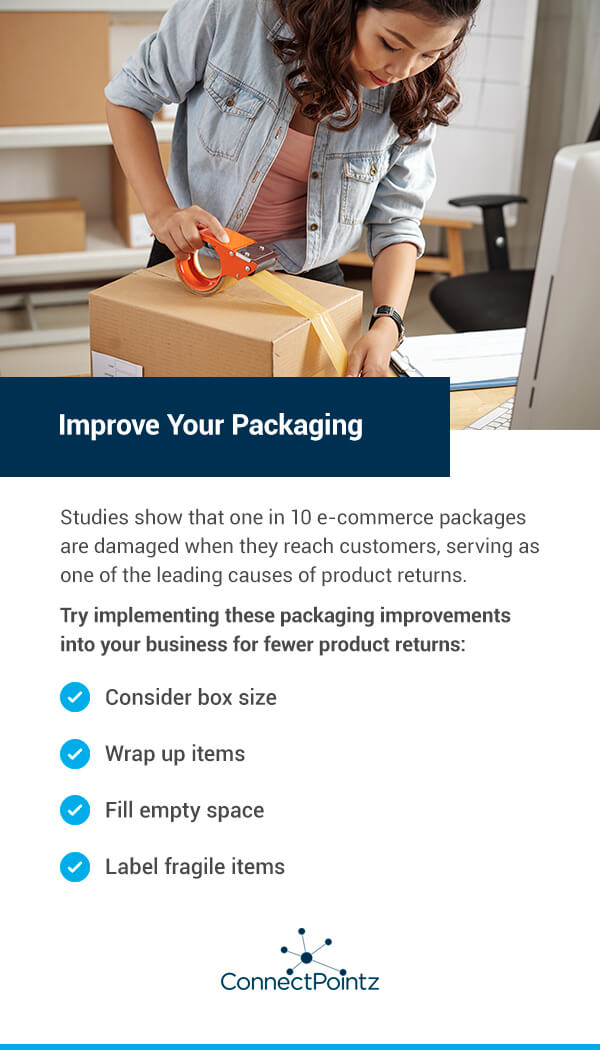 4. Improve Your Packaging
Studies show that one in 10 e-commerce packages are damaged when they reach customers, serving as one of the leading causes of product returns. Though you can't make the shipping process any gentler, you can brace your merchandise for impact by improving your packaging.
While some businesses try to get by with the bare minimum to save money on packaging, they're likely losing more than they're saving due to product damage and subsequent returns. When you bulk up your packaging to adequately protect your merchandise as it makes its way to your customers, you'll experience far fewer damage-related returns.
Try implementing these packaging improvements into your business for fewer product returns:
Consider box size: Any boxes you use should only be slightly larger than the product you're shipping to prevent items from moving around. However, there should also be enough room to pack protective materials.
Wrap up items: Dunnage, or the padding materials used to reinforce goods within their boxes, is essential for your more fragile items. When you wrap items in solutions like bubble wrap, air pillows and kraft paper, you prevent them from breaking, spilling or exploding before they reach their recipients.
Fill empty space: You can also use dunnage to fill the empty space between the box and the product to prevent items from sliding around. Consider materials like packing peanuts or paper.
Label fragile items: If you're shipping a particularly fragile item, consider labeling the box to caution package handlers against rough handling.
5. Offer Live Chat for Customer Support
Sometimes, customers return items that are in perfect condition because they don't understand how to use them, leading them to believe the merchandise is broken or faulty. You can prevent these types of errors by offering real-time customer support through a live chat program.
Live chat instant messaging tools allow your customers to reach out for immediate assistance when they have a product question or issue. These solutions enable you to connect with consumers and resolve issues without resorting to product returns. In addition, customer support can prevent shoppers from growing frustrated trying to operate products they don't understand, creating a more positive customer experience.
Even if it turns out the item is damaged, your customer support team can offer to replace the item without initiating a full return and price refund. You can also offer to refund the item in the form of store credit, guaranteeing that the customer will spend money at your store in the future.
6. Improve Your Sizing Chart
If you sell products where the proper sizing is crucial, such as clothing, shoes or furniture, it's vital that you provide your customers with a sizing chart to ensure they order the correct sizes for their needs. Improper fit is one of the primary reasons customers return merchandise, especially in the apparel industry.
There are numerous types of sizing devices you can implement onto your website, such as:
Traditional sizing charts: Standard sizing charts feature different product measurements and dimensions.
Size estimate surveys: Customers can fill out short surveys on their height, weight, fit preferences and body type, and the program will generate an accurate size estimate based on their responses.
Size bars: When shoppers review an item, you can provide them with a sizing feedback prompt where they indicate if the product was too small, too large or just right. These results will appear in an easy-to-read bar format for future shoppers.
Virtual room planners: These tools enable consumers to see how furniture will fit into their intended spaces with virtual imaging.
7. Reduce Product Defects or Find Areas of Improvement
Sometimes, the cause of a company's e-commerce returns is its order fulfillment process. Without precise and efficient quality control methods, it's easy to send customers the wrong items or even ship defective products to shoppers, resulting in inevitable product returns.
If you're a smaller retailer, you can package and ship orders yourself to ensure that you send out the correct shipments. If you own a larger company, hand-shipping orders may not be possible. In this case, you should consider implementing automated inventory management software to improve accuracy and reduce your product return rates. These systems result in fewer picking errors and greater quality control for your business.
8. Solicit Customer Feedback
When a consumer returns a product, it benefits your business to know why. With these insights, you can better improve your customers' shopping experience and satisfaction while reducing returns.
Be sure to request feedback from your customers to determine why they returned a product. They'll likely appreciate your efforts to improve their experience — plus, you can use this feedback to determine the most common reasons for returns and respond accordingly.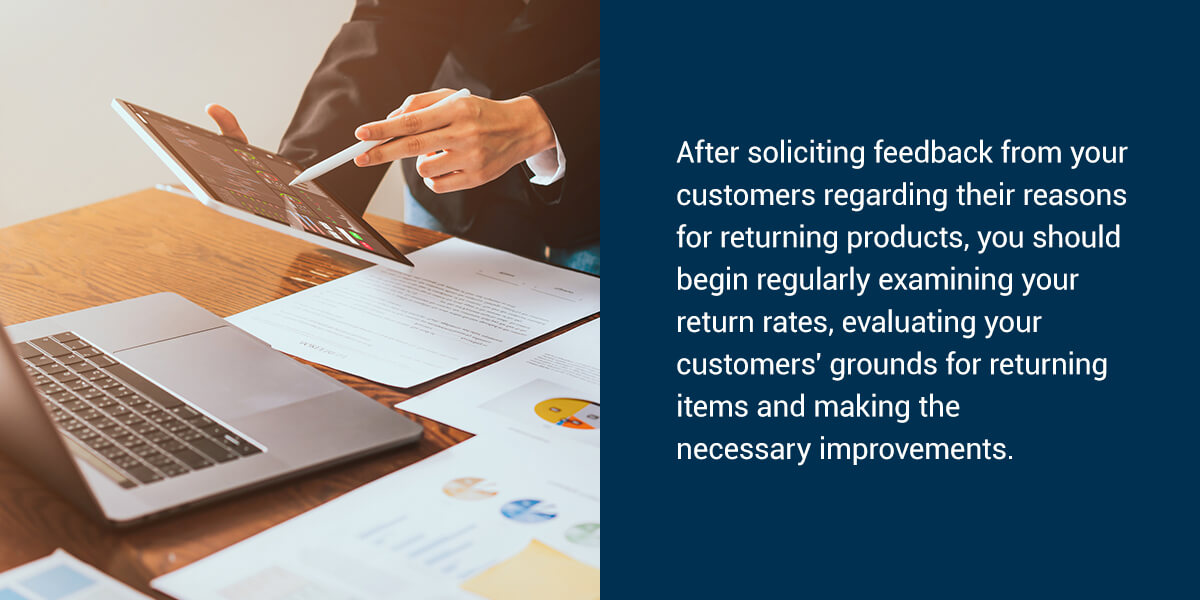 9. Identify Common Order Errors and Work to Resolve Them
After soliciting feedback from your customers regarding their reasons for returning products, you should begin regularly examining your return rates, evaluating your customers' grounds for returning items and making the necessary improvements.
For example, if the majority of shoppers selected "product not as described" as the reason for their return, your next step should be updating your product descriptions to make them more accurate. If they cited sizing issues, you might want to revisit your sizing chart.
With every return comes the data and insights you need to make your business better. Neglecting to use this information means missing an opportunity to improve sales and reduce returns.
10. Make Returns an Easy Process
While you may think that making the product returns process easier will result in more returns, the opposite is true. When customers feel confident they can easily return an item that may not work out for them, they're more likely to take a risk and buy it.
A stress-free returns process also keeps shoppers coming back to your online store, cementing you in their minds as a company that delivers positive customer experiences. Studies show that 80% of customers are loyal to e-commerce sellers with liberal return policies.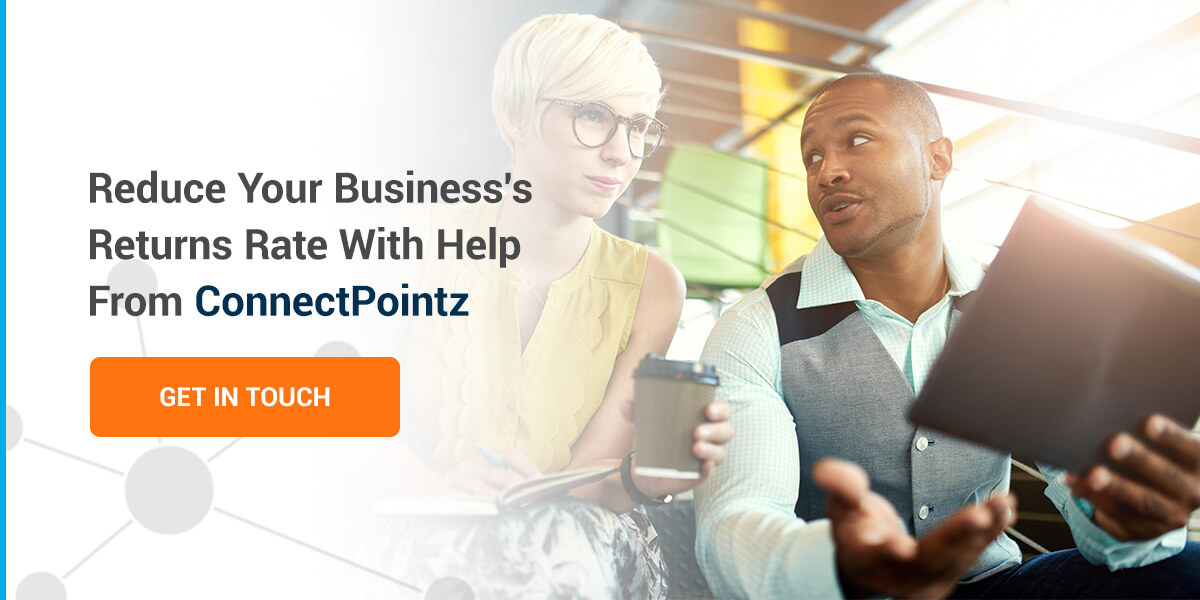 Reduce Your Business's Returns Rate With Help From ConnectPointz Today
If you're looking to optimize your product returns process by eliminating processing errors, consider investing in Electronic Data Interchange (EDI) automation from ConnectPointz. Our 35+ years of industry experience and massive inventory of integrated e-commerce systems enable us to deliver a fully automated, omnichannel experience for companies looking to sell products online. We serve our customers with customizable solutions, transparent processes, easy onboarding and affordable pricing to ensure the most positive customer experiences.
Contact us to learn more about our end-to-end automation services today!