Whether you lead a well-established or up-and-coming business, selecting an appropriate integration partner can be a challenge. When choosing an integration partner as one of your vendors, you should take your time and put considerable thought into the process to guarantee you receive the highest-quality service at a reasonable price. The effort required to find a reliable vendor is well worth it in terms of the benefits you'll reap.
What Is an Integration Partner?
An integration partner is a vendor that unites multiple business processes and systems. It can automate tasks, link programs for easy communication, reduce errors and streamline operations. These vendors connect businesses and help organizations achieve flexibility, customization and much more. Integration partners can vary widely in their offerings. That's why it's so vital to work with the right people.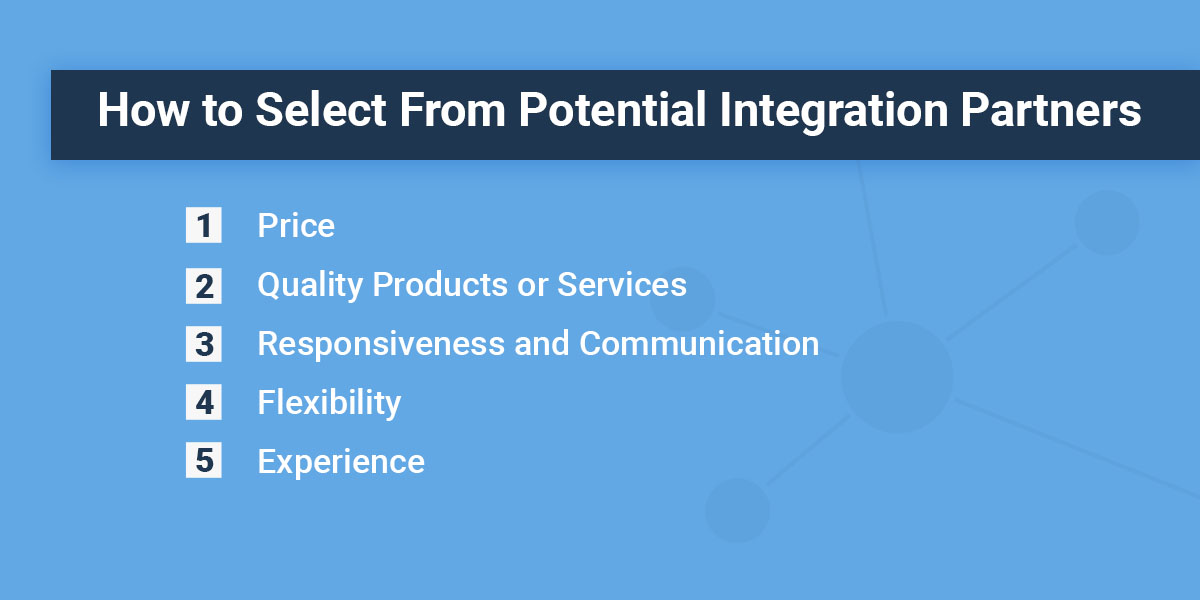 How to Select From Potential Integration Partners
Choosing a vendor involves more than typing what you need into a search engine. You'll likely need to compile a list of potential integration partners that could complete the task. The partner you choose will determine what benefits you'll get from integrating your systems and how easy the process will be. Without thorough research, you could end up with an integration partner that doesn't meet your needs. Speaking of needs, you'll also need to spend some time researching your requirements to make sure you meet them effectively.
When selecting an integration provider, there are five vendor selection criteria to keep in mind:
Price
Quality products or services
Responsiveness, communication and ethics
Flexibility
Experience
By using the above criteria, you can better compare the different vendor options. In turn, you will have a better grasp of the company you wish to do business with.
1. Price
Pricing is a crucial part of the equation, but many experienced shoppers prioritize the company's responsiveness, communication and ethics. These values set the tone for the entire relationship. Following this, they'll look to the quality of the product or service, followed by the company's pricing, flexibility and experience. We'll go over these in the next sections. While cost is a significant component, knowledgeable buyers will know how to factor it into the product's overall value.
Maximize Value for Cost
Comparing prices is all about finding an ideal balance of value and cost. To most effectively find a reasonable deal, you will have to seek quotes and estimates from various companies. Don't always assume the lowest or the highest price is the best option.
You may feel tempted to choose the vendor that offers the lowest price for their services. That mindset can be beneficial most of the time, but you should be extra cautious of companies whose quotes come in significantly lower than others'. For instance, if a vendor suggests a rate that's a fraction of what everyone else quotes, you may want to avoid them.
Often, with low-priced vendors, the service quality you receive directly correlates with the price. Additionally, vendors who quote at lower prices may end up charging you more after you account for aspects like fixes, downtime, lost functionality or security risks.
Communication and Itemization
When asking for a quote, you must describe your project as specifically as possible. The more the vendor knows, the more accurate your quote will be.
When requesting a vendor proposal, ask for an itemized list of all charges. This list can help you find any hidden fees and gauge your integration partner's transparency.
Finally, for more substantial or complex jobs, it may be a wise investment to hire an attorney to look over contracts and better analyze the fine print.
2. Quality of Products and Services
Quality integrations will work smoothly with few, if any, snags. They'll be a good reflection of what you asked for when you went to the vendor, and the integration partner should offer robust customer service.
Product Sampling
Price isn't always an accurate reflection of the product you're getting. The best way to know what you are paying for is to ask to see previous work that the vendor has done. You can ask to see sample work when applicable, or you may be able to visit locations where they've worked.
From there, you can see firsthand the type of product or service you will receive and even discuss the vendor with the other client.
Reviews
Reviews are an ideal way to learn more about a vendor. When people have an outstanding or lackluster experience, they may be eager to tell the world about it. Reviews can also enlighten you on some of the vendor's positive and negative aspects.
If a company has several poor ratings or reviews, look at the dates to determine their recency. Sometimes, the negative reviews are older, and the company may have since corrected the problem. Maybe the vendor had poor customer service two years ago, but they have since changed their goals, hired new talent and improved substantially in this area.
While you should always be wary of negative reviews, you should be equally cautious with overly enthusiastic testimonials. Sometimes companies have their employees write glowing reviews to push negative comments further down the page. However, most of these are easy to identify.
References
Like you do when hiring an employee, you can ask the vendor to provide a list of references that can reinforce the quality of services. If the vendor seems hesitant to fulfill this request, that should be a red flag leading you to consider looking elsewhere. Additionally, don't be scared to ask follow-up questions to learn what to expect — and ask to see examples.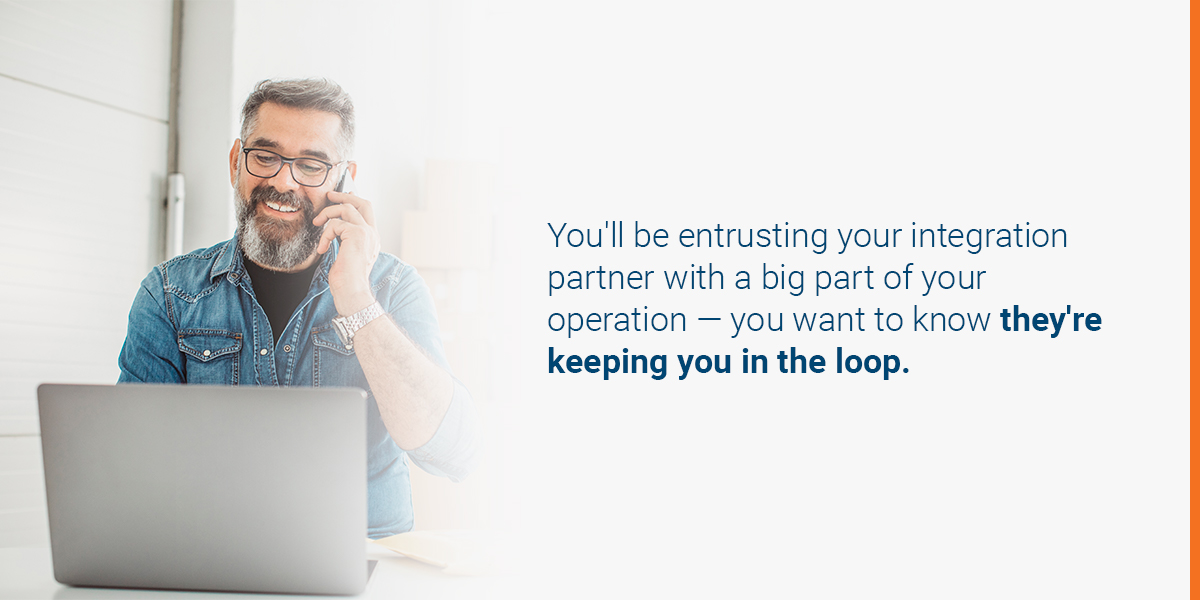 3. Responsiveness and Communication
You'll be entrusting your integration partner with a big part of your operation — you want to know they're keeping you in the loop.
Customer Service
Customer service should be a priority for any vendor you consider hiring. These companies usually also have a solid work ethic and put your needs first. When looking at reviews and testimonials, try to find ones that mention service. Do they fix issues promptly? Are they pleasant to work with?
Communication
You should do your best to find a vendor that maintains communication throughout the project's entire lifespan. You want to be sure they will answer all questions fully and are knowledgeable of the task requested. If you have lingering doubts about their expertise, you should be wary about hiring them.
However, communication goes both ways. You should be as informative as necessary. If the vendor needs you to specify further on the project or what you expect of them, be sure to answer as completely as possible.
4. Flexibility
Your business has to meet evolving needs, and your integration service provider should too.
Adaptability
Changes are an inevitable part of business, and your integration partner should be able to accommodate them. They may need to adapt your service option, support a new program you've adopted or regularly update their systems to maintain security and functionality.
Product Variety
Vendors that insist on using outdated technology or products aren't preparing you for technical advances or providing quality service. Technology is constantly evolving, and a prospective vendor for integration partnership should recognize this with the most modern solutions.
5. Experience
As the years go on, vendors hone their craft and build a track record. Experience can be a good indicator of service.
Old vs. New
Ideally, you will want to choose a vendor with several years of experience in completing projects like yours. If they are still in business after years or even decades, they probably know their way around the industry. They likely have refined their practice for a long time and understand what it takes to deliver strong service.
Existing Relationships
While an existing provider can offer the reassurance of familiarity, it's essential to revisit these relationships regularly. You'll want to ensure they aren't taking advantage of your loyalty by overcharging you or falling behind industry standards. It's still wise to get quotes from other providers to ensure you're getting the best price and stay abreast of new technologies.
Experience With Your System
You may also want to assess the partner's experience with the platforms you use or your industry. Are you specifically looking to integrate with QuickBooks? Are you a small business owner? A partner who's worked with your system or type of business in the past should have a better idea of how to achieve a successful integration.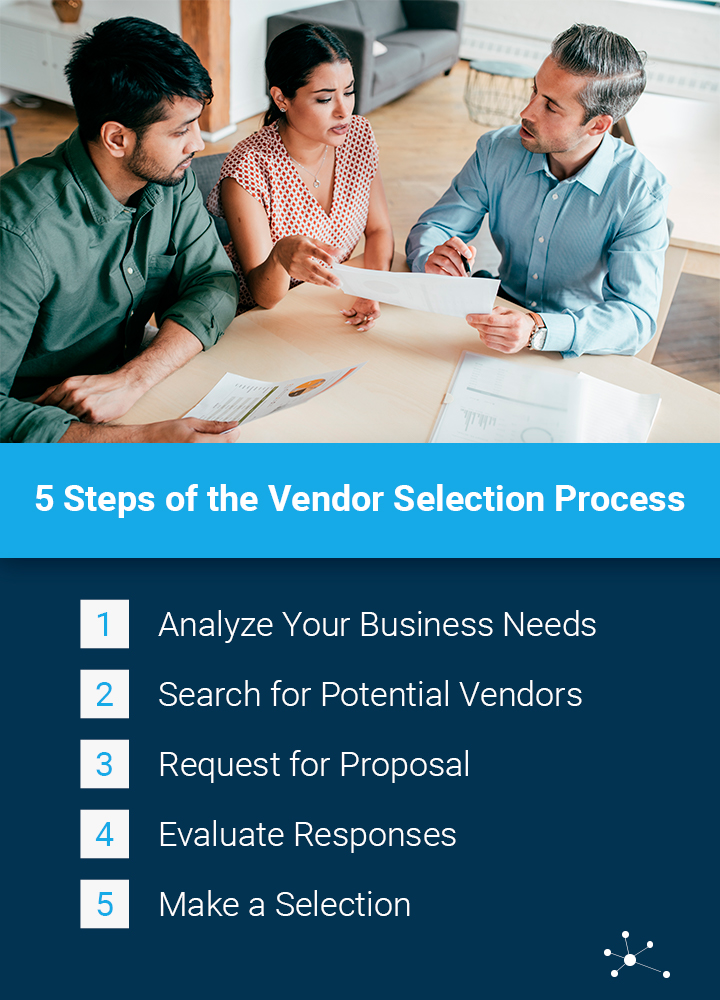 5 Steps of the Vendor Selection Process
With all these factors in mind, what does the process of choosing an integration partner look like? You begin by providing the necessary information to the vendors and inviting them to send you their bids or quotes. From there, you can then select the integration partner that best meets your needs.
If this is the route you wish to go, there are five steps to follow, which we'll outline below.
By using these five steps, you can assess vendors objectively with all the numbers in front of you, helping remove any bias in the decision-making process.
1. Analyze Your Business Needs
You can't begin to search for vendors without first defining what you want to achieve. You need to decide everything you want done — not just the basic idea. Know what functionality you're looking to gain and write down the systems and equipment you're working with. Be specific.
During this step, you should also create written documentation that specifies everything you want from the vendor, ensuring no information falls through the cracks or gets misinterpreted. Both parties will have their copies to reference as needed.
2. Search for Potential Vendors
While searching for a prospective vendor for integration, you will want to send out request for information forms. These signal to the vendor that you are interested in their services and would like their input on the project.
At this stage, you should have a thorough, well-defined idea of your expectations and goals.
3. Request for Proposal
Based on the details you gather through the RFIs, you will need to send a request for proposals or request for quotes. Instead of seeking the vendors yourself, RFPs and RFQs attract vendors to you. They see the information and requirements needed and send out their bids and proposals for you to consider.
During this step, you will get as much information as you can from the selected vendors. With your RFPs or RFQs, you set your terms and expectations. When you write these, you should include the following information:
Submission details
Introduction and executive summary
Business overview and background
Detailed specifications
Assumptions and constraints
Terms and conditions
Selection criteria
4. Evaluate Responses
Once you've received several replies or bids, the evaluation process can begin. Before evaluating, you will want to assign an importance value to the various requirements specified in the RFPs. From there, you can score each bid based on its projected satisfaction of your needs.
Finally, you will calculate the total scores and decide on a winning vendor from there.
5. Make a Selection
Now is the time to make that final selection. You have gone through the entire process of searching for vendors, learning more about them, requesting information and quotes, going through various proposals and evaluating each one.
You know which vendor you want, and all that remains is to accept the bid and negotiate any further terms and conditions as necessary.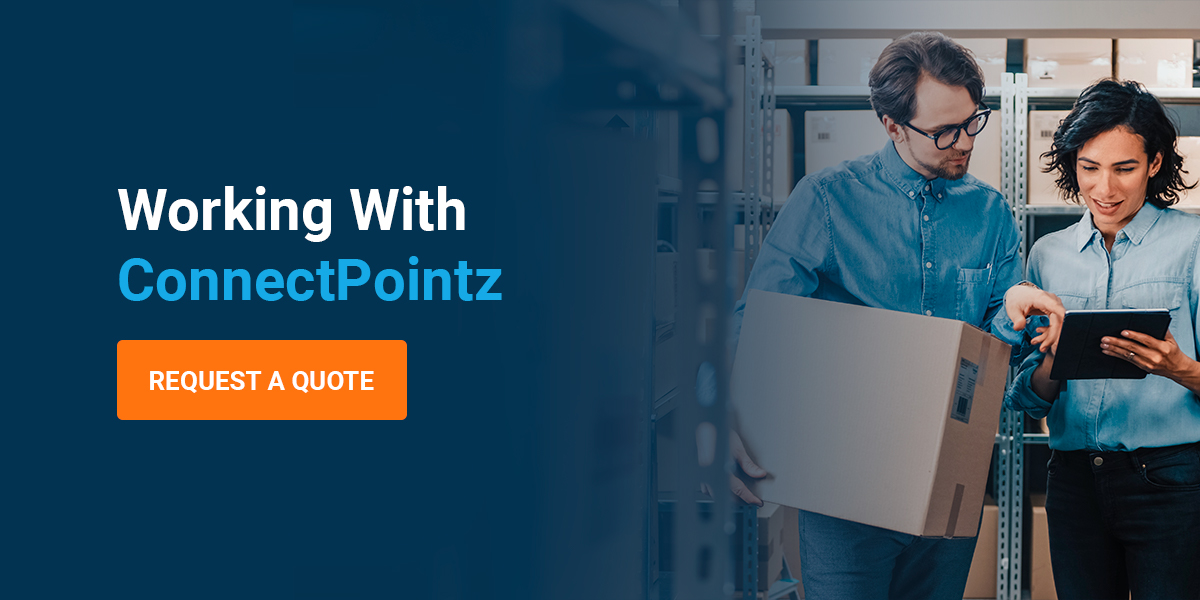 Working With ConnectPointz
ConnectPointz is a trusted name in integration, with reliability and flexibility built in. Our 35 years of industry experience have helped us create a vast ecosystem of integrated systems and applications to create an automated, omnichannel solution. With predictable, affordable pricing and a fast onboarding process, we've made it easy to connect your vendors to your systems and manage the many partners you work with to keep your business moving.
We value transparency and aim to deliver top-tier customer service to all our clients. We are also knowledgeable about a wide range of industries, which you can learn about in our case studies. You can read more about the ConnectPointz advantage online or request a quote today to start the vendor selection process.